Information for 2023 Volunteers
Welcome
Welcome and thank you for thinking about being a fabulous FOHI volunteer. Before you sign up, read our volunteer brochure to learn what is expected of you.
Also check out Volunteering at Hog Island and learn about past volunteer experiences. FOHI volunteers work hard and are a team. They rock! Bring a friend and share the joy.
Read on to see how 2023 will be similar to – and different from – 2022.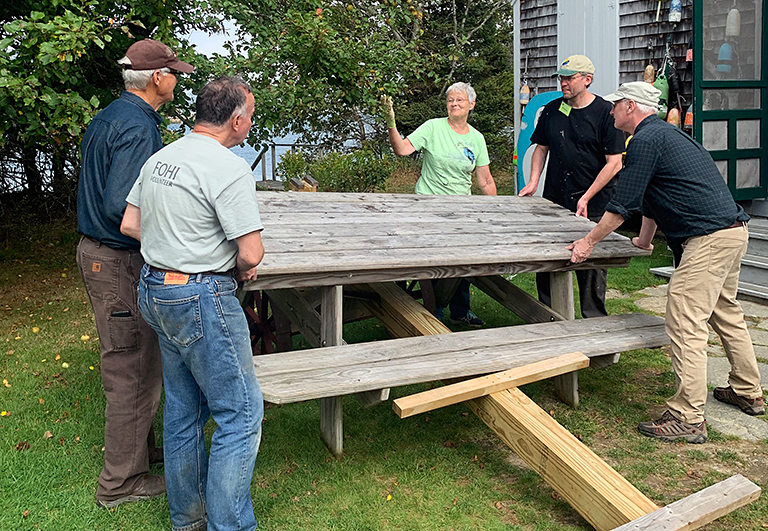 COVID-19 Update
Because we are still concerned about COVID, we will continue to be cautious for the 2023 season.  To protect campers, staff, instructors, and volunteers, strict COVID-19 guidelines will be followed.
BEFORE you sign up to be a volunteer, please read Audubon's COVID-19 Camp Guidelines. We have done our best to update all the forms and information on this site to reflect changes owing to COVID requirements, including social distancing. If we've missed anything, please send an e-mail to volunteer@fohi.org.
FOHI volunteers keep the camp humming and are an integral part of its continuing success.  Planning your trip:
---
Forms to complete
Criminal background check –All staff and volunteers are required to have a criminal background check. For volunteers working during Teen Camps, June 11-16 and June 18-23 and Family Camps, July 9-14 and August 6-11, instructions will be sent upon receipt of forms 1-4 above.
Please send signed and completed forms (1) – (4)  either by e-mail (PDF) or snail mail to:
Email: volunteer@fohi.org
Mail:
FOHI Volunteer Coordinator, Attn.: Adam
12 Audubon Road
Bremen, ME 04551
If you have questions about the information required on these forms, contract, or your volunteer schedule, contact Adam, the volunteer coordinator,  at volunteer@fohi.org