A tribute to Duryea Morton by David Klinger – a former Hog Island dishwasher and FOHI board member.
                                       "All good men start as dishwashers."
                                                         — Duryea Morton, 2005
Whether measured by the dissimilar and unequal yard sticks of man — or busboy — Duryea Morton achieved a success in life reached by few others.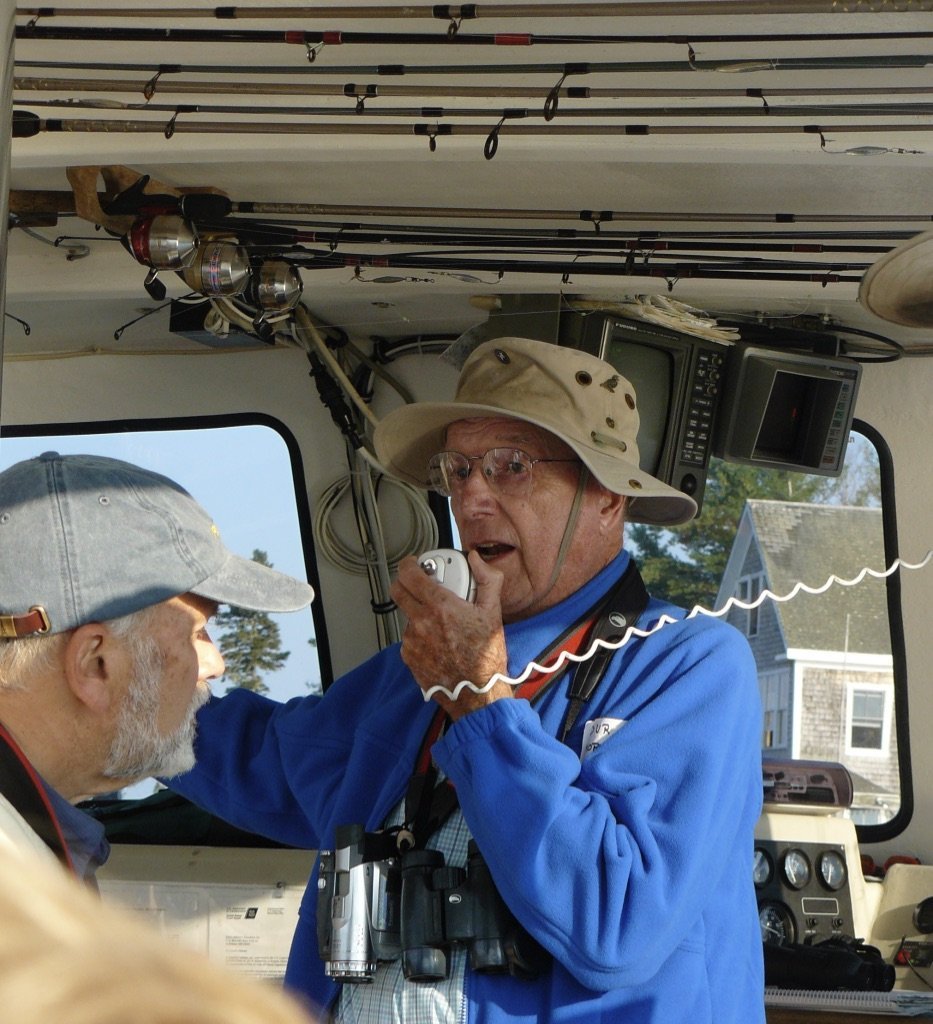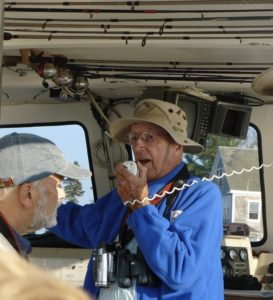 That he was all too self-effacing to remark on that success probably stems from his groundedness as a washer of pots and pans at a Maine island summer camp in 1946 … a wounded war veteran returning home with battle stars, who gamely reported for work at the kitchen sink. He then proceeded to steer American conservation in a new and profoundly more thoughtful direction.
Duryea Morton ended as one of life's "successful dishwashers" … a modest and patient leader, broadly admired for his wise counsel and and steadiness of judgment. That he never relinquished a common touch that imbued ordinary tasks and ordinary people with dignity and purpose underscores the depth of admiration felt upon his passing.
He was bestowed with an all-too-rare gift — that of living to witness the impact of one's own legacy.
Duryea "Dur" Morton, 94, director of the Audubon Camp in Maine between 1971 and 1977, died of multiple myeloma on May 6 in Williamsburg, Virginia. He is survived by his wife of 58 years, Peggy Wilson Morton, daughter Leslie Morton, son David Morton, and two grandchildren.
"Dur Morton was an extraordinarily gifted teacher and conservationist who will be remembered for inspiring generations of teachers and biologists," concludes Dr. Stephen Kress, executive director of the Project Puffin Seabird Restoration Program, himself a one-time Hog Island dishwasher. "Many conservation leaders, including myself, can trace their careers to Dur."
Born in Bronxville, New York, Morton grew up in Hingham, Massachusetts and graduated from The Forman School in Litchfield, Connecticut in 1943. His interest in songbirds and their intricate nest building led him as a young boy to fashion his own nests on rocks and in trees, made from grass clippings, as lures for birds.
They all failed. But the bird books his mother provided stimulated his interest in nature and set him on a career path with birds as its common thread.
Following his service in World War II, Morton graduated from Albion College in Michigan in 1950 with a degree in speech and biology; at the end of his sophomore year, Morton studied under the esteemed American ornithologist Olin Sewell Pettingill, Jr. at the University of Michigan Biological Station in far northern Michigan, a region considered the North American crucible of bird and bird habitat research.
Of his first summer on Hog Island before college, Morton later recalled, "It was my first part-time job with the National Audubon Society. Carl Buchheister, then a vice president of the Society and director of the camp, hired me as a student assistant to help wash dishes. I rode the overnight train, the Bar Harbor Express, from New York to Newcastle, where 'Mr. B.' met me. And like you, my breath was taken away when we drove around the corner at the top of Nash's Hill and I saw Muscongus Bay for the first time."
Morton established the summer camp tradition by which a long and storied line of national wildlife conservation leaders began their service as dishwashers in the Hog Island pantry. It's been called "the most productive kitchen in the history of American conservation" because of the conservation luminaries it spawned, over decades.
It was that same kitchen that in 1946 served as the modest post-war posting for Morton, a 22-year-old who had already witnessed and survived some of the European war's most harrowing conflict. Upon graduation from high school, Morton had parried his experience with the National Ski Patrol to volunteer for the U.S. Army's famed 10th Mountain Division, serving in northern Italy.
For those possessed of sufficient curiosity to learn the stories that modesty, in later years, kept Morton from relating, they're archived in the records of the 10th Mountain Division in the Denver Public Library — his winter training at Colorado's Camp Hale, sailing to Italy aboard the USS West Point, enduring German artillery and mortar attacks as a combat infantryman, and his wounding in action that earned him a Bronze Star and a Purple Heart. It remains the record of a quiet American hero … before he signed on for KP duty in a Maine summer camp, and then rose to become a leader in American conservation.
In 1950, before ecology was a popularly-accepted science, Morton pioneered the teaching of natural history at his alma mater, The Forman School, and at The Potomac School in northern Virginia. He joined the National Audubon Society permanently in 1959, as director of the organization's Audubon Center and Audubon Camp of Connecticut in Greenwich.
The 1960s and 1970s were an era of burgeoning educational outreach by most national conservation organizations, as Rachel Carson's Silent Spring and the first Earth Day in 1970 transformed traditional, long-standing conservation programs into a broader endeavor known as the modern environmental movement. In 1963, Morton rose to supervise all of Audubon nature centers and its four adult education summer camps and, by 1967, to direct National Audubon's educational services department from its New York City headquarters.
Audubon, long a leader in bird education, expanded its programming in the Morton era, always with nature study at its core. The recent diagnosis of "nature-deficit disorder", popularized in author Richard Louv's 2005 bestseller, "Last Child in the Woods" represents the needed rediscovery of the concepts Morton introduced in his teaching and summer camp instruction at the mid-point of the last century.
Morton retired in 1980 as Audubon's vice president of education, concluding his career as a teacher at the St. Francis School in Goshen, Kentucky.
In recognition of Morton's impact on the Hog Island camp and the Audubon programs in mid-coast Maine, the owners of Harbor Island in Muscongus Bay and the National Audubon Society dedicated the northern tip of that island as the "Duryea Morton Audubon Sanctuary" in 1979. The picturesque island is still faithfully visited by each summer's new crop of inquisitive Hog Island nature campers.
"As we carry on our lives in the future, remember the inner feelings and rich history we all share," Morton advised in 2011 at the 75th anniversary of the Hog Island camp, the 65th summer since he donned his first apron in the Hog Island kitchen. "Remember, too, that in these uncertain times, it is more important than ever to recognize that there is reassurance in the cycles of life, the ebb and flow of the tides, the succession of the seasons, the sunrise and the sunset, for they provide our strength and our beacon. What better place to reaffirm our commitment to these truths … than on Hog Island."