Yes, that's right zoom! When you're having fun, time flies. The 2018 season at Hog Island was just that – educational, lots of work, and fun, with lots of new and returning campers. It was filled to 87 percent capacity! Registration opened for the 2019 season in October and slots are being filled right and left.
On this Thanksgiving Day, FOHI has so much for which to be thankful. Not least are our volunteers. They gave again almost 6,000 hours of time during the sessions, opening and closing weeks, and throughout the other times of the year. Volunteer slots for the 2018 sessions were filled well in advance. The same is happening for 2019 –  like registration for the camp, volunteers are rapidly signing up for their favorite volunteer stint. Many sign up for more than one week. In 2018,  the longest was the whole season, the next was five weeks at one time. So, you see, volunteers love the island. Plan your summer – be a volunteer, a camper, or both! Bring your friends and family. Find the balance between fun, work, and giving.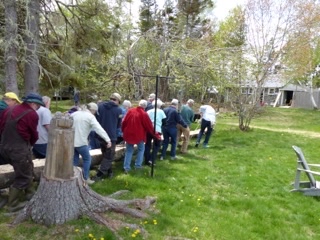 FOHI is excited about two new books about Hog Island. The first was published by Norton in October 2018,   After Emily: Two Remarkable Women and the Legacy of America's Greatest Poet, by Julie Dubrow, Tufts University.  Julie was the speaker at the 80th Anniversary Celebration of Hog Island in 2016; FOHI published her address at the 80th. The second is Nature's People: The Hog Island Story from Mabel Loomis Todd to Audubon, by Tom Schaefer, a former camper and FOHI board member. During his Artist-in Residency at Hog Island he also produced a book of poems: A Forest of Ferns. Nature's People is scheduled for late 2019.
FOHI is also excited about the generosity of our donors too. Without them we would not have had the funds to hire in 2018 our first employee, a volunteer coordinator, which was needed with the growth of our volunteer team; this was thanks to two-year funding by a donor. We have also just received notice of a $10,000 match for a new work boat. With the increased volunteers, staff, food, materials and so much more, another work boat is essential to the continued efficiency of the island. Volunteers were surprised and thrilled with the new washer and dryer funded by another donor to replace the failing old ones.
This is just a smattering of FOHI's work at the camp, not to mention the planting and maintenance of the garden beds with the help of the Old Bristol Garden Club each week.
Enjoy the spirit of Thanksgiving knowing that each of you in your own way enables Friends of Hog Island and the camp to flourish.