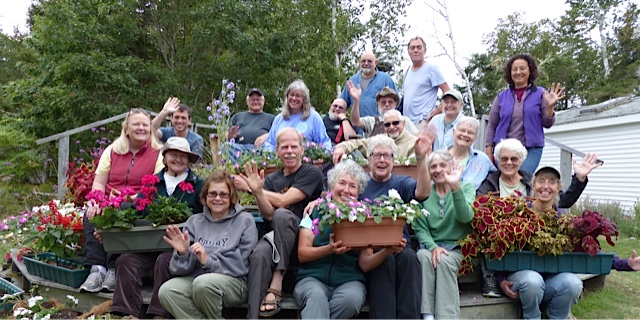 Happy Thanksgiving!
Who would have thought back in 2010 that FOHI  would be alive and thriving in 2017. Yes, FOHIs remain tenacious in their care and support for the Hog Island Audubon Camp. With another year under our belts, 2017 was home run for the camp and for FOHIs.
Thanks to Audubon staff and registrar, the camp was 94 percent full! Teen sessions sold out almost immediately after posting. FOHI volunteer spots for most sessions were full by March with waiting lists! Hog Island continued to work its magic -great staff, great food, great volunteers, great programs, great staff, and a setting beyond words.
FOHI volunteers
FOHI volunteers staffed 16 sessions, including the opening and closing weeksand special events on the island for a preliminary total of 6,004 hours! Streamlined organization enabled FOHIs to work efficiently and have more time to enjoy the island and programs. Even 31 cancellations was not a show-stopper thanks to our "desperadoes," especially Jenny who stayed on for two extra weeks, a hearty thank you, and to our Whirlwinds who help with turnover days!
The gardens blazed with color thanks to Helen and Betsyand the Old Bristol Garden Club, who also donated a number of Verbena bonariensis plants that butterflies found irrestistible.
FOHI volunteer coordinator. Yes, at long last FOHI will hire a paid volunteer coordinator. If you, or you or anyone you know, would be interested, check out the job description. We hope to have someone in place for 2018.
Camp happenings
Bailey, Rachel and Steve's last surviving chick had a summer akin to a Raidersof the Lost Ark adventure. She survived multiple attacks by hornets, a Great Horned Owl,  a disgruntled Mrs. Boathouse, and a Bald Eagle that landed her in the water. She was rescued and transported by a FOHI to Avian Haven as the eagle had punctured her side. A thorough examination and x-rays showed that Bailey had an old wrist fracture that had not healed. She continued at Avian Haven, having daily physical therapy and care for more than a month. Frigid weather forced a move to a warmer clime – Florida. Bailey now is in the care of Audubon Center for Birds of Prey in Maitland.  Bailey is a true internet star. You can follow her progress on their Facebook page.
The solar panels that FOHI donated and helped install provided 93.8 percent of the camp's needs. Next year, we hope for 100 percent! Let the sun shine on!
Two new 15-passenger vans for exclusive Hog Island program use;FOHI contributed $11,000 to their purchase. Campers loved them. They now live in a new garage on the mainland!
Two new rental sessions proved a great success: Birdwatcher's Digest Reader's Rendezvous and Coastal Maine Botanical Gardens. We hope to see them both back again in coming years.
Artist-in-Residence program had 4 artists participate each for two weeks. They stay in the Bingham Cottages, renovations funded and done by FOHI volunteers. A writer, two artists, and photographer all found their muse.
Tomorrow is 2018
Wow! Can it be possible that 2018 is heading for yet another blockbuster year: a new Spring migration session; a teen Costa Rica trip in July, a new Mountains-to-the-Sea session for teens, plus the usual great sessions including Raptor Rapture and Arts and birding. It's not even December and registration is at 54 percent. Likewise, FOHI volunteers are signing up to secure their favorite session with their friends.
Ah, too much news and not enough space! Close your eyes, think of Hog Island and smile. Happy Thanksgiving from all of us at Hog Island to all of you.