It's early August, and it's hard to believe that the Audubon Camp at Hog Island has already this year seen a steady stream of campers arrive – wondering what's in store for them. Have they made the right decision to attend? At the end of their session, they bubble over with enthusiasm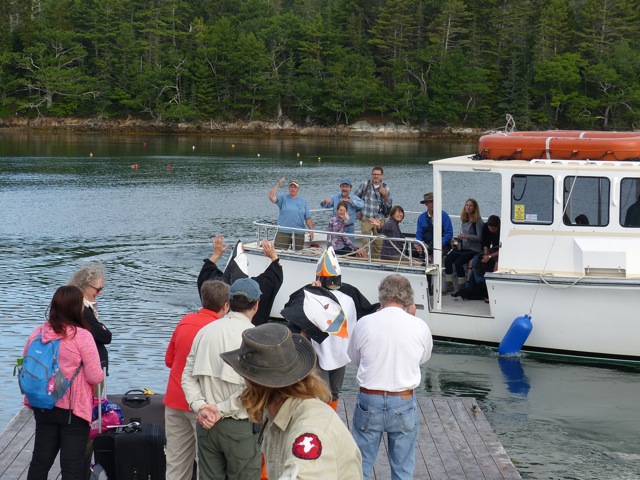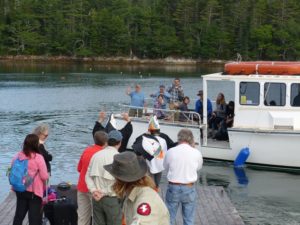 and joy, resolving to return in any capacity they can. Some linger on the dock waiting for the very last boat to the mainland, hoping it won't come. They know they made the right decision.
For the staff, volunteers, and instructors, they likewise are beaming, exhausted, but beaming. Yet again, they have managed to inspire and assure a meaningful and joyful learning experience for each camper.
Not only is camp registration at 94% this year but FOHI volunteer spots were at capacity early on with waiting lists for some sessions. The island works its magic and we all heed its call.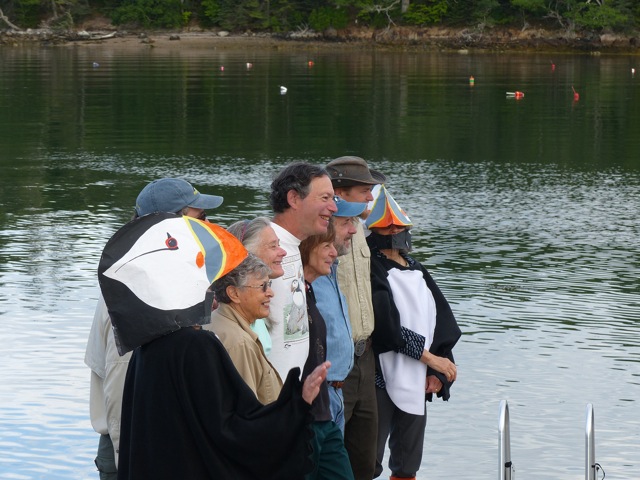 Some highlights
In June, the Joy of Birding session found Paul Winter 7-time Grammy award winner captivating campers. He will be back!
Two new sessions, Breaking into Birding and Hands-On Birding were big hits, so they'll be included in the 2016 line up. Don't miss out.
In July, despite the loss of Rachel and Steve's chicks, Big and Little, to a Bald Eagle, Raptor Rapture campers saw an osprey chick from a neighboring island banded at the camp; then, on a field trip, they saw three juvenile Peregrine Falcons practice their flying skills, including locking talons and tumbling – quite a show stopper!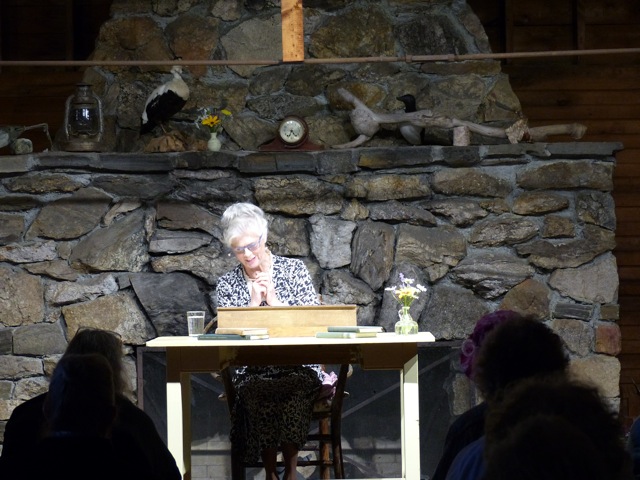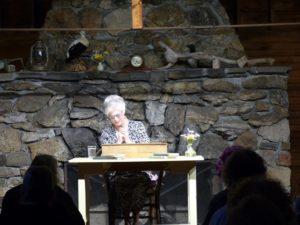 Speaking of show stopper, the second reading of A Woman of the World, a one-woman play about Mabel Loomis Todd and Hog Island was enjoyed by all at Arts of Birding and Raptor Rapture. Former camper Rebecca Gilman wrote the play. Watch for news of FOHI's fundraising performance in 2016.
Every session at the camp has been packed with learning, good food, camaraderie, laughter, and wonderment. A few spaces still remain in Seabird Biology, September 6-11.
FOHIs keep on smiling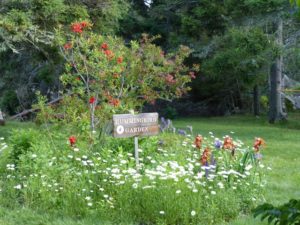 The FOHI touch of volunteers and donors is everywhere on the island from the rainbow of nodding flowers in the gardens and on the tables to art on the Fish House and Port Hole doors to new showers, new kitchen items, and more.
The most obvious is the gift of a pontoon to FOHI, which we then gave to Hog Island; Volunteers now enjoy a seat on their boat ride to and from the island – quite a treat! It also makes the transport of heavy items much easier.
Another gift often overlooked in the effervescence of the camp is FOHI's annual donation of $50,000, which this year surprised Steve Kress when the FOHIs took the stage and asked him to join them. Lottie then handed him the check!
FOHI volunteers continue their gift of time and are the first on the island and the last to leave. They open and close it and keep it going throughout the season along with the dedicated staff.
It's not too late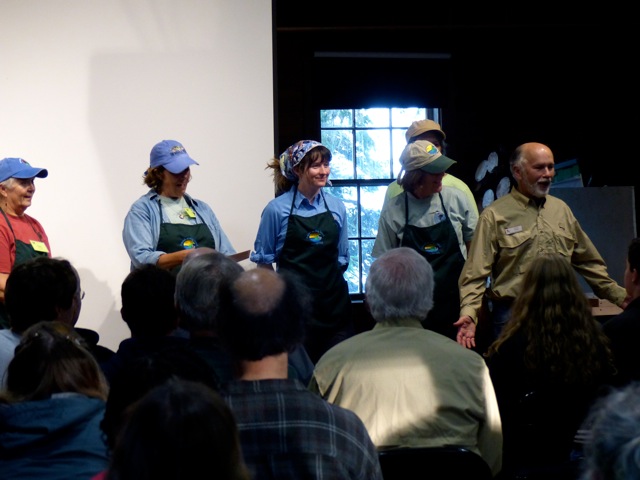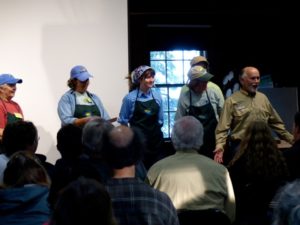 Come join us as a camper or volunteer. You won't regret it.
Join us for FOHI closing week, September  20-26, and help put the camp to bed, make some repairs, eat great food, enjoy autumn sunsets and best of all know that you'll be part of the fabulous FOHI team that is helping the camp toward long-term success.
You, too, will leave with a big smile knowing that you will be back.
Camp registration for the 2016 sessions will open on October 15, 2015.
For volunteers, the FOHI sign-up form will be ready November 1!
Check out our Facebook page for more photos.
See you on the island . . .