Mother Nature keeps teasing us with hints of spring – longer days, warmer sun, birds singing, but she still has not shed her winter mantel. Snow still embraces the landscape here in Bremen and ponds and waterways are still frozen, although the ice is not quite as thick. It's hard to believe that Hog Island was frozen in this winter as were the lobster boats. At least that ice has dissipated and we can now reach the island by boat. It had been 40 years since the bay water had frozen according to a local lobsterman.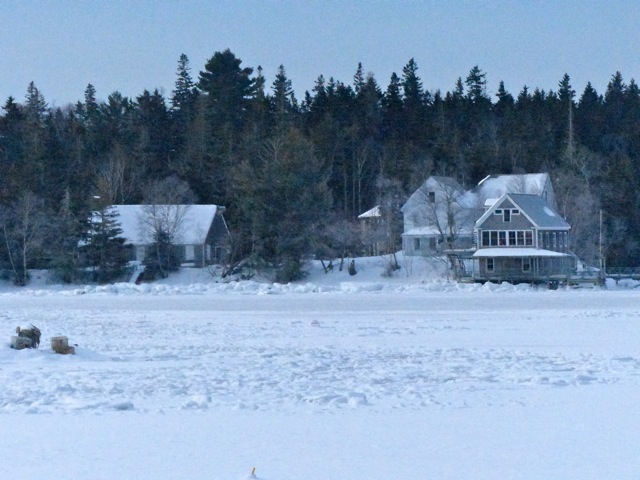 The Hog Island spirit is alive and vibrant
Despite the long winter, registration for camp is at an all-time high of 86 percent with several sessions sold out. For many of us, this is sheer rhapsody. Spaces are still left in several of the sessions: Hands-On Birding with Scott Weidensaul, Breaking into Birding, with Pete Dunne, and Maine Seabird Biology. Sign up for some of the last remaining spots or put your name on a wait list for other sessions: www.hogisland.audubon.org
The same is true for the volunteer slots. We have a few left, so don't hesitate, sign-up.
Paul Winter, seven-time Grammy award winner, will be at Joy of Birding, which is sold out, but check out the other talented instructors that will be at Hog island in 2015; their range of expertise and talent will surprise you.
 Change
Nature constantly changes yet remains the same, so it is with Hog Island. We  have some new staff this year.  Eva Matthews is our registrar (Jamie left to be with her new family); in the kitchen, Ryan Frazier is our chef and Cleo Bell our new assistant chef.
.
Seabird Sue Schubel  accepted an offer she couldn't refuse: Assistant Seabird Island Manager; her first love is with the islands and the seabirds. We'll miss her as FOHI Volunteer Coordinator, but Juanita Roushdy will strive to partially fill her shoes.
Sue will be back for the FOHI closing weeks when the birds have left their summer islands. The camp and island will still be as warm and welcoming as it has always been.
Rachel and Steve, the resident Hog Island ospreys are on their way back to the nest and will arrive any day now. Watch them  at www.explore.org and click on the Osprey photo. Maybe you'll see them fly in!
FOHI's much-awaited annual newsletter is now ready. In it you'll find news about all that you accomplished in 2014 for the camp plus some fun photographs. FOHI has some projects for 2015 that we hope to complete including solar panels for the Bridge. FOHI volunteers rock!
Wish list
We love our workhorse scow but it is on its last legs! We need a 16ft Carolina Skiff or something similar- gently used is fine, too. We also need a 12 or 15 passenger van. Last but not least, for the kitchen, some Ciambro storage containers. Contact Juanita at president@fohi.org for details.
Don't hesitate any longer to sign up as a camper or volunteer. See you soon!