So many good things have happened at the Hog Island Audubon Camp in 2013 and it's not over yet.
Front and center, of course, is the romantic drama of Steve and Rachel and their two chicks Mabel and Tory, watched by over a million and half viewers.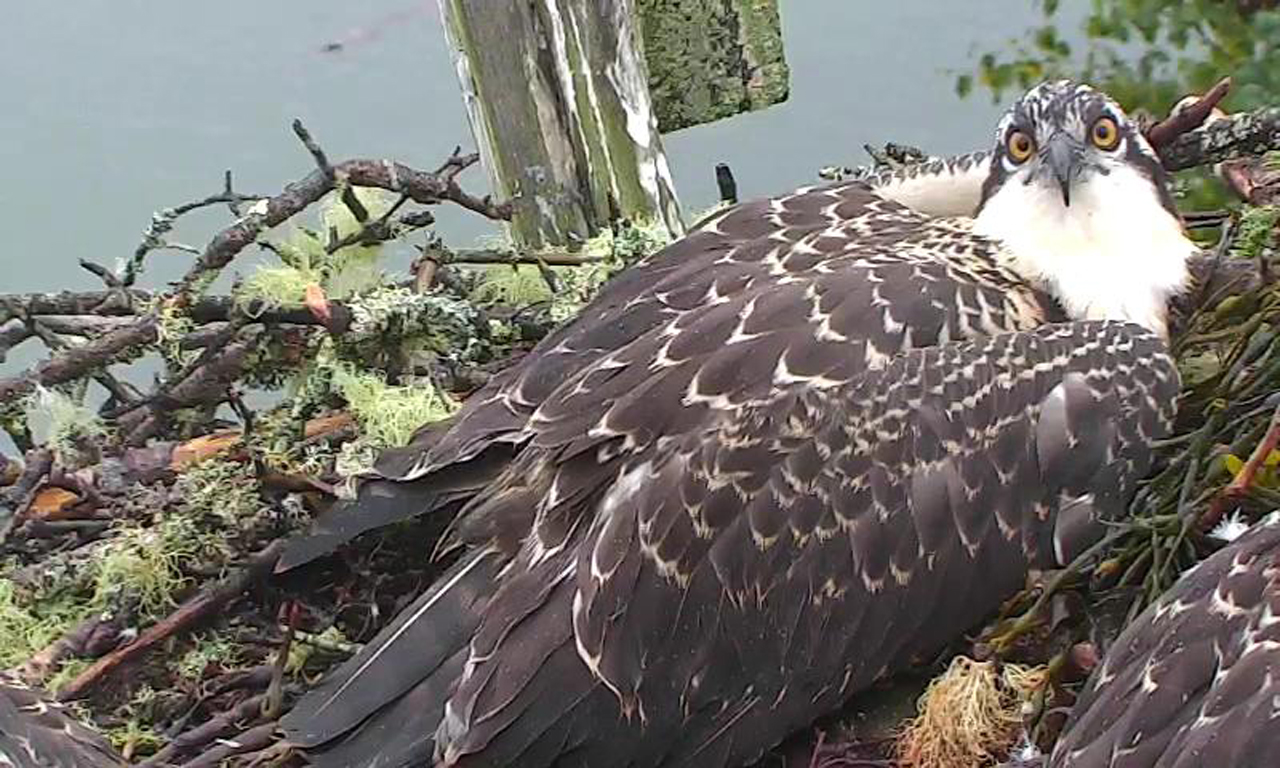 Who would have imagined so much suspense – our very own soap opera. See what's happening at www.explore.org.
Underneath the site of the soap opera is where all the great things are happening. But where to start: campers, donors, volunteers, instructors, staff. You cannot have one without the other. Each is an integral part of the camp's continued success.
Campers always smiling and learning
Sessions have averaged 94 percent capacity, with a number of returning campers. Dawn and Glenda were at camp when Steve Kress had just started his project with the puffins. To have a place in people's hearts for so long is surely something to be treasured.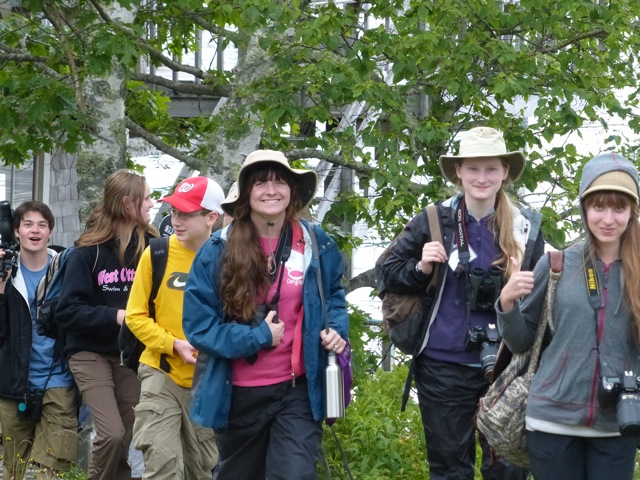 Scott Weidensaul directed a new session, The Arts of Birding, which had everyone raving about it.
Then, there were the two sessions with the Corvids (teen) campers – our future. To see their enthusiasm and wonder reassures us that in their hands the future is safe.
We have four more sessions coming up; check them out at www.hog.island.audubon.org
Donors are full of surprises
To say that FOHI donors are full of surprises is an understatement. Thanks to their generosity,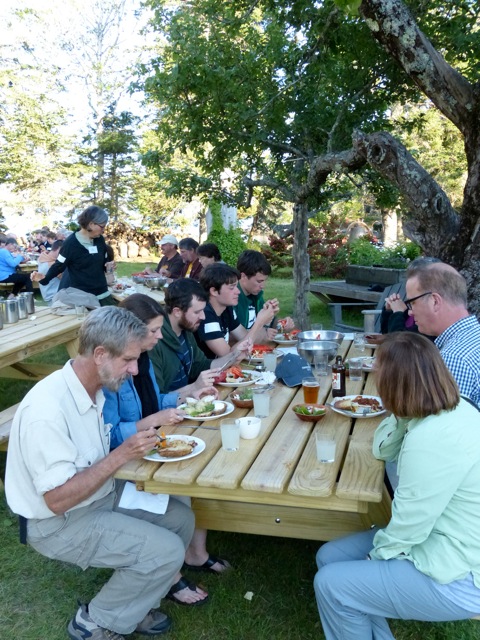 the camp has 10 new picnic tables, a new walk-in fridge, a chest freezer, new dining room chairs, another new specimen cabinet, a completely revamped Bosun's Locker, new power tools, new Water-Hog mats, new Adirondack chairs, new vacuum cleaners, new trail signs, desk fans for many of the rooms, a 7-passenger van, and various other items. In addition, FOHI was able to fulfill its annual pledge to the camp of $50,000 in June at Field Ornithology.
But the best is yet to come. An anonymous donor has promised $10,000 to FOHI by the end of the year for Fish House improvements, if we can match that amount. To date, we have $2,200 in matching funds. The funds will be used for a new overhead audio/visual system, lighting and fans, and possibly an exhibit of the past, present, and future of the camp.
Volunteers make it happen
Our volunteer team grows, with many repeaters. Their capacity to work and smile – even during the brutally hot weather is awe-inspiring.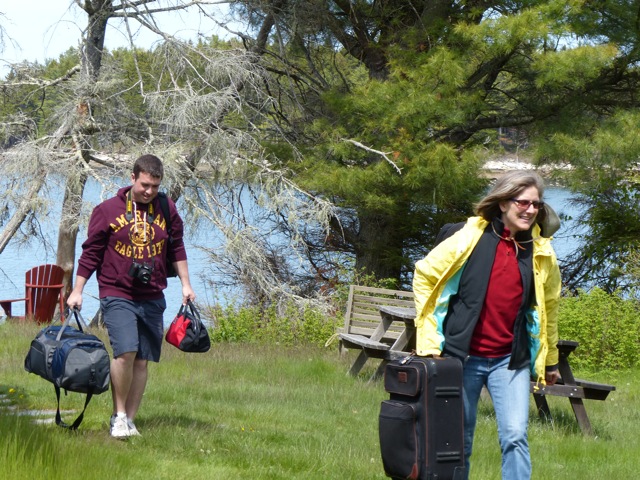 They work hard and play hard. With their generous gift of time and talent, we are able to achieve so much. Like campers they come back repeatedly. Catherine was a camper when Steve was only thinking about relocating puffins.Her time at camp radically changed her course of study. Today she is a university science professor and returned to camp as a volunteer with her spouse, Jim. So far this year, FOHIs have contributed more than 3,800 hours to the camp. They come from all over the country – near and far.
We still have spaces for two special events in August and three sessions in September and the FOHI workweek. Don't wait to sign-up.
Instructors and staff – indomitable
Enough cannot be said about the instructors and staff. Instructors also come from near and far – some long-time faithfuls; others eager to be part of the Hog Island tradition. They are experts in their field.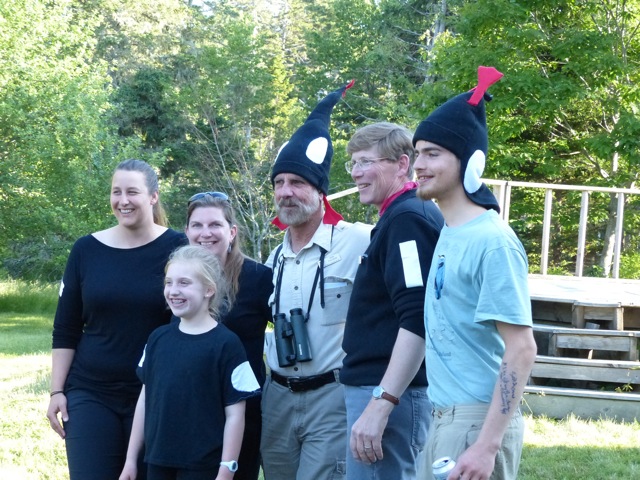 They work long hours, are patient, good-humored and adept at changing schedules and workshops to accommodate inclement weather.
They happily share their knowledge with those willing to soak it up. They even get into the spirit of camp celebrations, such as Guillemot Appreciation Day.
Then there are the camp staff who are there for every session; they keep the camp infrastructure running and keep campers fed. There is no such a thing as a short day on Hog Island – all days are gloriously long and full until you collapse in bed, your mind reeling from the day's field trips and workshops or from work making sure that every camper is  having a comfortable and enjoyable stay.
As you see, whether you're a camper learning , a donor giving, a volunteer giving, an instructor teaching, or a staff member working- you are part of the camp's brilliant future. Hog Island is definitely the place to be.