Why are all these people waving -they're happy FOHI volunteers. They love being on Hog Island and contributing to its success and well-being. They want you to join them and be part of the FOHI team that rocks!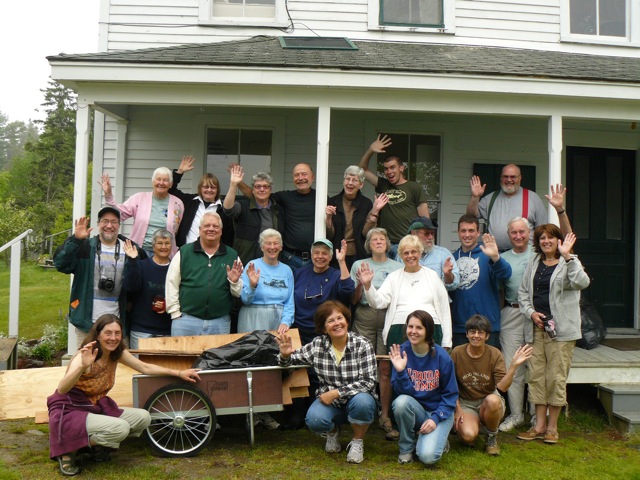 Programs . . .
Yes, the 2013 Hog island season is around the corner. It's exciting for many reasons:  a great line-up of instructors including some new ones that you won't want to miss, and a new session, The Arts of Birding, will add a whole new dimension to your enjoyment of birds and nature.
Registration continues to outpace last year's and some sessions are already full.  Tell friends about this amazing place and these unforgettable learning experiences. Explore what's available at http://hogisland.audubon.org
Volunteers . . .
Our volunteer team is growing and many are signing up for multiple weeks. Doing so, gives you time to explore the region and relax on the island. It also helps us, because you "learn the ropes" and help teach others. Our volunteer brochure, sign-up sheet, and  information packet are on our website, so it's all in one place. Cannot leave home this year, then be a remote operator for our  Hog Island osprey cam in the comfort of your home or school.
Another option:  be a Turnover Tornado! Arrive at 8 a.m. on the last day of a session ready to work like a tornado. Clean up, change beds, and lug things off the island – then, by early afternoon, relax and enjoy a quiet overnight on the island hiking and exploring on your own. This is perfect for an overnight commitment! We're trying.
Annual Report . . .
Like the volunteers, we're happy!  Our Annual Report is a snapshot of our accomplishments and financial position for 2012. Highlights include over 8,000 volunteer hours; restoration of the Writer's cabin, donation to the Hog Island endowment, and many other things.  Take a moment  and see what your dollars and hard work have made possible.
Wish List . . .
Ah, we all have wish lists and FOHI and Hog Island has theirs.  FOHI is planning to replace the walk-in fridge on the island by building a new one with volunteers and contributions. If you'd like to help contact president@fohi.org. Other items include chest freezer, pizza oven, 10 Water Hog door mats 2 x 3. Dream item: 8 – 15 passenger van!
The snow is melting, the days are getting longer, and we can't wait to get back to the island – join us.