Not too hot, not too cold, not too damp, and not too dry: perfect weather for accomplishing all the tasks that lay before us during the Service Week of June 10-14, when the Friends of Hog Island (FOHI) volunteers gathered in greater numbers than ever before (28!) to get our work assignments from Director Seth Benz and Property Manager Sue Schubel.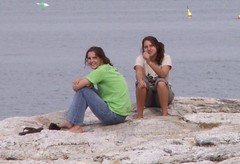 The magnitude of the projects was awe-inspiring, but with willing hands the work load was lightened, as we chipped away at the jobs until everything was finished. The heavy wind storm earlier this spring had caused significant damage, bringing down the huge spruce by the gazebo and littering the trails with debris. Eric Eichorn had his work cut out for him, hauling away wood and cutting out the enormous root system of the spruce.
Helen Walsh and Barb Tucker tackled the hummingbird garden under Tom Leckey's professional supervision; Betsy Cadbury, Julie S., and Maddie L. planted Grace's Garden; Naomi Halpert, Libby Hyatt, and Art Borror worked on the kitchen and Buchheister gardens, while Loretta Victor oversaw cleaning projects in all the buildings.
A whole work gang, including Bob Speelman, Roger Engle, and Art spent at least two days on the mainland, clearing brush and building a new shade garden below the visitors' center, while another group made up of Beverly Engle, Marilyn Smith, Jill Mallios Speelman, Cindy Cooke, Blanche Townsend, Ellen Doubleday, and Yael Seligman cleaned both mainland and island stores and sorted T-shirts under the eagle eyes of Maine Audubon Store Manager Carroll Tiernan. And all participants were on deck in the form of a chain gang to haul the initial big food delivery to the island.
Ken Mandler and his daughter Catherine, Vic Gabay, and Sara Dinyari cleared trails back on the island, while David Doubleday, armed with an arsenal of his own personal tools, fixed everything he could find to fix, along with helpers Eric Eichorn and Mike Seifert. Mike also helped Jay scrape, prime, and paint trim on the bath house.
Art oversaw the installation of the tide gauge in 55-degree water, assisted by Betsy, Julie, and Maddie, who then went for a (short — very short!) dip off the dock: gotta toughen up those thin-blooded Florida gals!
Bob Halpert retreated to the kitchen to spell chef Janii, whence he emerged at timely moments armed with chicken curry and his signature strudel, now become a FOHI Service Week tradition.
None of this could have been accomplished without the able assistance and support of the terrific staff and Student Assistants: Heather, Andrea, Erin, Erics 1 and 2 (!), Sharon, Laura, Rebecca and Kory. We were a tough group, but they survived our teasing and are now sufficiently "broken in" to deal with the rest of the summer!
But all work and no play makes Jack a dull boy, and did we play! Art and Tom led early-morning birdwalks and tidal explorations, Heather and Art organized a song-fest, Tom Schaefer and Sue Schubel entertained us with slide shows, and we all enjoyed a cocktail party and lobster feast. And best of all, we got to be the first ones to ride on the new Puffin V! Twice! We had a special christening ceremony, with Seth breaking a bottle of champagne on the bow while Captain Anthony Liss muttered under his breath, "Don't chip my paint — go for the anchor chain!", followed by a sunset cruise, and then later in the week a trip out to Eastern Egg Rock to welcome the puffins back.
At a general FOHI meeting, co-chair Betsy Cadbury thanked everyone for all their hard work and dedication. She also thanked Seth and the staff for helping to make this year's Service Week such a success and so much fun. She extended greetings from co-chair David Klinger, who was unable to join us, but whose quiet presence, wisdom, ideas, and advice were felt throughout the week.
Betsy thanked outgoing FOHI co-chair and Web publisher Jay Collier, whose expertise and generous involvement over the past few years led to the creation and growth of the www.fohi.org site and mailing list. Jay is stepping down from FOHI, and is looking for a new Web volunteer to take the site into the future. (Inquiries welcome!) Nevertheless, the current Web site will remain available as an archive of FOHI's first five years. Yael Seligman has kindly offered to join David and Betsy as the third FOHI co-chair.
Art made a special presentation of Hog Island T-shirts to Julie, Maddie, and Cat Mandler, for their exceptional and energetic participation in all activities and their willingness and sense of humor at all times. Good to have such committed and caring young people carrying on the FOHI traditions!
Participants were offered an opportunity to sign up for a free session this summer in return for acting as FOHI representative. Seth, Betsy, and Yael will come up with a handbook of FOHI rep responsibilities and make it available later this summer.
We discussed plans and suggestions for next year, including maintaining the "sticky" board with its listing and prioritizing of tasks, getting in touch with former FOHI participants, and setting up a system of captains for various work details.
All in all, it was a most successful Service Week. Seth has made it clear that the energy, expertise and time that FOHI participants put into helping ready the camp for its opening session is invaluable to his staff and to Maine Audubon. And that message was reiterated by the five Maine Audubon Board members who showed up for a day to help us work, and whose encouragement was much appreciated by all. We hope to see everyone back again next summer!