(Note: Elderhostel price update, below.)
This year marked the celebration of the 70th anniversary of Hog Island as a center for learning and loving the Maine coast. Some historians say that the instruction that has taken place here was the inspiration for our nation's ethic of nature ecology. And, during its early decades, Hog Island planted the seeds of today's present popularity for birdwatching. Through the years, many of the country's best known naturalists and educators have come to learn and teach at Hog Island.
The original mission was to teach teachers and encourage them to share their knowledge with students. As a participant in Hog Island's programs, you play an important and continuing role in the process of spreading knowledge and passion for conservation. Now, under the leadership of Maine Audubon, the mission is expanding.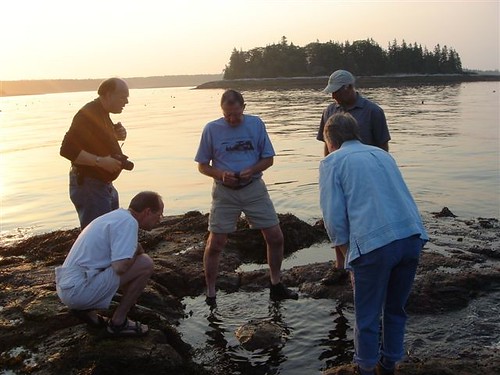 Today, Hog Island offers a diversity of programs to people of all ages. Adult, teen, youth, and family sessions focus upon one's sense of ecological appreciation, knowledge, and call to action. 2006 marked the addition of interpretive programs for day visitors as well as half-day cruises to see Atlantic puffins and other coastal wildlife. Some of these day visitors have already returned eager to learn more at a week-long residential session!
All program participants thrill to outstanding close-ups of the natural world. The island's proximity to active seabird colonies is a true blessing. The chance to see such a variety of birds so closely, to smell their acrid guano on an ocean breeze, to hear the raucous calls of ever-excited terns, to feel the swell and pulse of waves out on the living ocean, all in the good and caring company of like-minded folks is a memory that fills the senses and warms the heart. Indeed, it is an experience that changes many a life.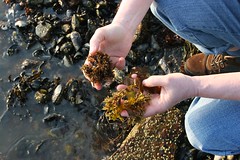 Sharing the magic of a bay cruise often makes me wonder what Mabel Loomis Todd had in mind when first she glimpsed Hog Island and acted to "save" it. Could her love of nature have been so strong, her vision so clear, her imagination so vivid that she would bequeath to future generations, a natural island treasure so deep, expansive, and timeless that it penetrates one's very soul? What a gift she gave us! What generosity of wisdom, goodwill and foresight. Is it not our privilege now to share this legacy with others?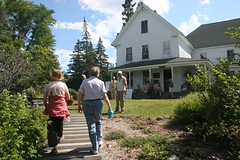 I invite you to continue to learn from and share Hog Island's inspiration. Mark your calendars for a 2007 program. Come visit us. Bring a new friend, a fellow naturalist, a child, or someone who has never been to a Maine island.
See you soon on Hog Island!
— Seth
2007 Hog Island Schedule