By Colleen Webster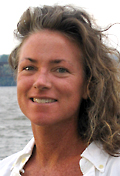 Before I even departed for Hog Island, Maine, I had so much to learn. As an English professor come late to the study of natural history, I've been playing catch up for three years now, birding with experts, hiking with naturalists. But mostly I've been reading. It's what I do best, so it's what I did to prepare for my trip six states north.
I read about the geologic events that created the rocky points that jutted out of the water along the state's southern coast, how their thin soil now supported few trees outside of spruce and evergreens.
I read about the tidal pool homes of various rockweed, arthropods, sea stars, eels, crabs and other shellfish.
I read about Hog Island's human history of hosting pigs for early settlers' food supply when it was too cold to harvest fish and lobster and the rocky land prevented successful farming. I read about Mabel Loomis Todd who summered on this 333-acre spot of forest and determined to leave it to a conservation group who would ensure its preservation.
I read about John Wortman, birder and naturalist, whose memorial scholarship had been bestowed on me by the Maryland Ornithological Society to attend this Natural History of the Coast of Maine camp run by Audubon Maine.
Lastly, I read directions and maps, loaded my car, and headed north.
I had no idea how truly unprepared I was to have my expectations surpassed.
The eleven-hour journey gave me much anticipation time. From the information packet I sensed I was going to love this whole week; the What To Bring list indicated nothing electric, no hair dryers, radios or TVs. A whole week free of references to reality shows, rock celebrities and the latest hair-do trends? True nirvana for this anti-pop culture soul.
All the words of great naturalist writers rang through my thoughts. I realized I was not striking rough camp in the wilderness, but I did feel I was going, as Henry David Thoreau wrote, "to learn to reawaken and keep ourselves awake, not by mechanical aids, but by an infinite expectation of the dawn." I was looking forward to expertly led walks, lectures, expeditions and good old camp camaraderie, grown-up style. I had no idea how truly unprepared I was to have my expectations surpassed.
The hilly terrain, light fog and sea air welcomed me to the dip from the mainland to the boat dock. As my bags were loaded onto the transport boat, I received my name tag and peered through a scope at my first life bird of the stay, a Black Guillemot, calmly bobbing among the lobster trap buoys.
Minutes later the first arriving group of campers boarded the Puffin IV only to disembark a few hundred yards away. Sheets and towels all around and we tramped off to various accommodations, mine being the distant Crows' Nest, an open cabin slowly filling with single women.
After our first of many fresh, homemade dinners, all 43 campers were immersed in our first activity: preparing various rockweeds to be pressed onto watercolor paper, cooking down some to thicken vanilla pudding, adding some to cucumber for seaweed salad.
Over the next few days, we walked a bird trail originally taken by Hog Island's first ornithology teacher, Roger Tory Peterson; I tried to feel his painterly empathy with the nesting Eastern Kingbird, the flitting Ruby Throated Hummingbird. I imagined the osprey we saw were descendants of those saved by Rachel Carson's Silent Spring, her wake-up call to the effects of DDT. We hiked to a cabin where Mabel Loomis Todd worked on the first three editions of poems by her Amherst neighbor, Emily Dickinson. I never stopped seeing, from Harris' Checkerspot butterflies, to the little cone middens of buzzy red squirrels.
All in all, we spent the week watching birds, or rather looking for them, at 6 each morning, hearing all five of the breeding warblers on the island and seeing many of them: Black Throated Green, Blackburnian, Yellow-Rumped, Northern Parula, and Magnolia. We climbed rocky shores and waded in the bay to find fish, crabs, mussels, dogwhelk and periwinkles. We learned about butterfly mimicy, the migration of monarchs and our human way of tagging and tracking their yearly orange streams north and south. We devoured cookies hot from the oven after standing in fields catching and identifying insects, examining frogs and young eels from the far-off Sargasso Sea.
We learned the significance of each cup of coffee, its relation to the Amazon Rainforest and the wintering grounds of so many of our own summering warblers and other passerines. We boated through Muscongus Bay to visit the now-famous Eastern Egg Rock, an eight-acre island where Atlantic Puffins have been re-introduced to nest by pioneering Steve Kress and his team of steadfast workers.
We watched the sun slipping down over what Maine writer Sarah Orne Jewett called The Country of Pointer Firs.
On our last night, drinking wine and eating lobster, we stood around on the still-wet grass and watched the sun slipping down over what Maine writer Sarah Orne Jewett called The Country of the Pointed Firs in her famous novel. We had become quite a talkative, chummy crew, from the 20-somethings who worked as Park Naturalists, to the Moms taking some time for themselves, to the couples enjoying a learning vacation. One couple was even there as a gift from their children and grandchildren, celebrating their 60th wedding anniversary.
We had come from Florida, Connecticut, Washington state, Ohio, New York, from jobs, from families, from houses with the demands of daily duty. Some of us had never seen a warbler, some could bird by ear, some hated bugs, some willingly placed butterflies on our noses. But no matter our starting place, together, we learned so much from phenomenal instructors who never failed to inspire.
I am not sure what the other 42 took home, but I know what is etched in my bones, in my awareness.
The sound of a Black Throated Green warbler singing away at the foggy stillness.
The serene presence of Sea Bird Sue who spent five summers on Egg Rock monitoring puffins.
The green significance of ferns, lichen and moss.
The relaxed exuberance of Mark who reels off insect orders and swings his butterfly net.
The quiet circle of kingfisher feathers from a hawk's kill.
The perseverance of Bonnie who has returned to Equador for 18 years to study the Rainforest birds, carrying what Terry Tempest Williams calls "the grief that dares us to love once more."
The call of a solitary loon amid morning lobster boats.
The patience of Tom answering each of my myriad questions, "yes, Colleen, the oscines can learn songs" with detail and care.
The glaring whiteness of a Roseate Tern as it returns to its nest.
I have learned to see more in this world and to love it better. I learned I have a lot more to learn, but realize I am rewarded already when I remember Maine writer Henry Beston's words from 80 years ago: "The world today is sick to its thin blood for lack of elemental things, for fire before the hands, for water welling from the earth, for air, for the dear earth itself underfoot." I may not have lived alone on the Cape Cod shore for a year, but I went to a cabin on an island and I forged a bridge from the wild to my tame heart.
I am so grateful for this thickening of my blood that I will be a long time leading others to wildness.
Colleen Webster is a college professor from Havre de Grace, Maryland.