Michael Forsyth — a sophomore at McIntosh High School in Peachtree City, Georgia — was winner of the 2003 Photo Contest.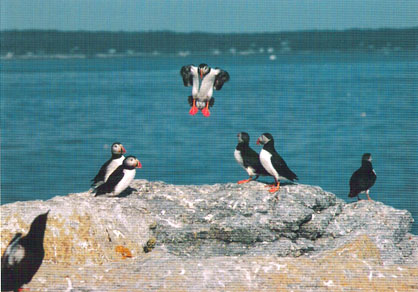 Taking this photo with my Nikon F2 was part of a rare opportunity to see the Atlantic Puffin nesting in its natural habitat. Very few people are allowed onto Eastern Egg Rock in Maine, and I was one of the lucky few, thanks to the Coastal Maine Bird Studies program at the Audubon Camp.

I took this picture from a blind a few feet from the Puffins' burrows. When we were in the blind, it was an excellent opportunity to see the Puffins up close. Along with the Puffins, we saw common, arctic, and roseate terns nesting on the island. We got to help conduct a feeding survey of the terns with a biologist, and were able to study them from the blinds.

This was my second Coastal Bird Studies program, and it was one of the most memorable experiences of my life.