I study the small tightly wrapped pine cone in the palm of my hand and think about my week of work and study on Hog Island — a week that brought a group of people together to support an historic summer camp. We worked and studied and in one week became community.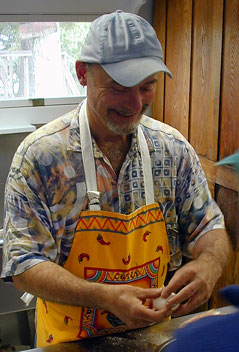 I first began to sense there was a story in the camp kitchen of this unique island when I attended the Hog Island Summer Camp for Families with my husband and oldest daughter in 2000. I am an early riser and discovered that I could get coffee in the Bridge. Each morning as the sun rose, I conversed with the camp "cookie," Janii Laberge. And with other campers continuously exclaiming about Janii's food, a desire to write about the food of this place began to churn in my mind. Upon returning home, I wrote a personal account of our most astonishing experience on Hog Island and stowed it away.
Winter brought the 2001 Audubon Camp in Maine brochure. New this year was a "work/study" opportunity at the camp on Hog Island. Len agreed willingly to join me. My personal mission was creating a cookbook. We arrived on the island this time without the weak joints and uncertainty of our first visit. We felt like experienced Hog Island campers and quickly found our room in the Port Hole. The week continued with a rapid pace of work/study and culminated in Janii's traditional lobster feast.
During the week, Janii welcomed me and other work/study volunteers into his world of the kitchen. What I learned should not have surprised me. For one thing, he does not write down recipes. "You are forced to make measurements when you tell someone how to do something," he says. His cooking process comes from deep within and, like his life, is always evolving and changing. He carries with him the details of the cooking process that he feels will be useful to the process ahead.
Janii's food preparation reflects the love affair that he has with the natural bounty of the earth. On any particular morning he will offer freshly prepared fruit, oatmeal, and granola along with toast, French toast, or pancakes. Eggs also emerge as scrambled, coddled, hard boiled or soft-boiled, depending on his mood.
Janii's food preparation reflects the love affair that he has with the natural bounty of the earth.
Janii greets me with blues eyes twinkling and a grin and, during this work/study week, tells me to get an apron. His tie-dyed, hand-crafted aprons in a variety of colors reflect his inspiration and artistry. Some colors appear to be bleeding, so before the week is over he soaks them in the ocean water hoping the salty content will set the colors.
As I begin my tour of kitchen work I am instructed in the ways of the kitchen. "Waste" from food preparation is divided into two categories: that retained for another recipe where leftovers are thought of as meal starters, or that added to the island compost. Cardboard, plastic, and glass are separated for recycling on the mainland. Nothing is to go down the drain except water because of the fragile nature of the island disposal system. Thus I learn how Janii's kitchen is an integral part of the Hog Island ecosystem.
Every morning at 4:30, a breakfast menu that has been festering in Janii's mind takes form. This morning he is preparing pancakes and blueberry sauce from fresh berries. He commences to make the pancake batter. I ask him the recipe and he says, "Let me see. Seven cups of pastry flour, 3 cups of regular flour, 1 1/2 cups of wheat flour, and 1/2 cup of corn meal." He adds five eggs separated but, "no dairy so two cups of apple juice. A splash of vanilla … about one second's worth." He has been scraping a nutmeg and comments, "and one half a nutmeg." He pauses. "But when I get to the center I usually eat it." He pops it into his mouth with a boyish grin.
I whisk the egg whites and pour them over the other ingredients in his bowl. "I'm using five eggs because that is all I have left," he remarks. He continues, "I cook by intuition — you can awaken intuition. It leads to personal revolution. I see work as play, and that is how it should be. Life cannot be diagrammed or there would be no mystery." He then goes off to add cornstarch to the blueberries.
As today's breakfast preparation nears completion, Janii says to all of us who are listening, "The main thing in life is to taste every morsel — bitter and sweet. They are both components of life."
And again Janii says something profound that leaves me silent.