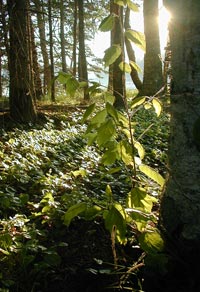 Over the years the program at Hog Island has undergone changes and modifications, but the essential goal has always been to awaken campers to the richness of habitats and their complex interrelationships.
A field trip may visit a fresh water pond and explore the wealth of plant and animal life to be found there. Another group might be visiting a seabird colony to determine the factors which make it possible for it to succeed or attempt to understand why it may not and whether its success or failure should be considered in relation to man's presence or absence.
It was from such studies that the Audubon Seabird Program (sometimes referred to as the "Puffin Project") began under the leadership of Dr. Stephen Kress. This program, which has had great success under his direction, was an outgrowth of field trips which he led to Eastern Egg Rock in Muscongus Bay while he was Camp Director in the 1970s. It is only by understanding the total ecosystem, including physical and biological influences, that the interaction within habitats can be interpreted.
The cost of operating the camp has never been covered by the fees charged. This has been accepted in the interest of making it possible for the greatest number of campers to attend. As a result, the camp property and equipment have been allowed to deteriorate. Although some of the tuition gap has been filled by scholarships provided by interested groups including Audubon chapters, there is a large back log of deferred maintenance which needs attention.
We ask you to examine our needs and your hearts and pledge your support for the future of the Audubon Camp on Hog Island.
To address these needs, a small group of former and current staff, campers, and student assistants assembled at the camp in July 1998. We knew that there was a large body of loyal alumni and friends, so we set about the creation of a support group. We decided to call it the "Friends of Hog Island" and in subsequent meetings hammered out the organization that brings you news of the Camp in FOHI's Across the Narrows newsletter.
We identified three major areas where our efforts might help bridge the gap between cost of operation and tuition income. The first was for a second boat to provide transportation for students in the field as well accessibility between the island and the mainland. Second was the need for additional scholarship funding to supplement tuition shortfall. Finally, we recognized the continuing need for restoration of deteriorating buildings and equipment.
We ask you to examine our needs and your hearts and pledge your support for the future of the Audubon Camp on Hog Island.
Bart Cadbury was director of the Audubon Camp in Maine director from 1958-68.