Executive Director & Trustees
Executive Director
Juanita Roushdy
---
Officers
President:
Scott Weidensaul

Vice President:
James Li, M.D.

Secretary:
Nancy Dickinson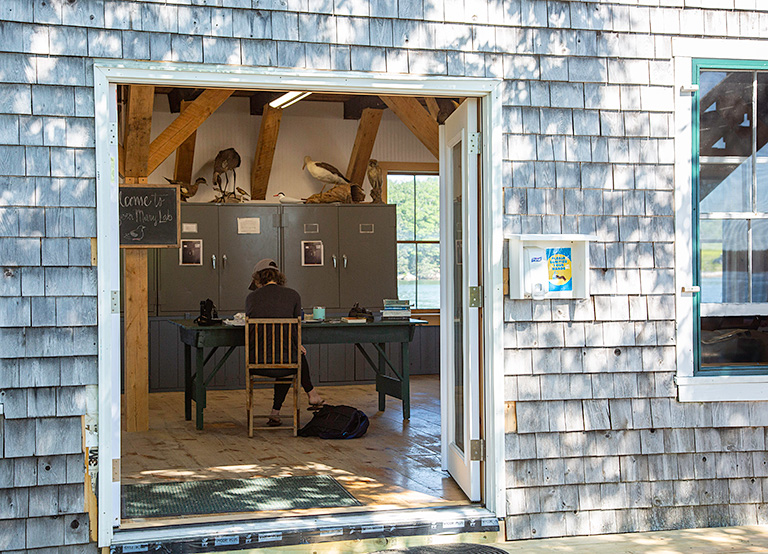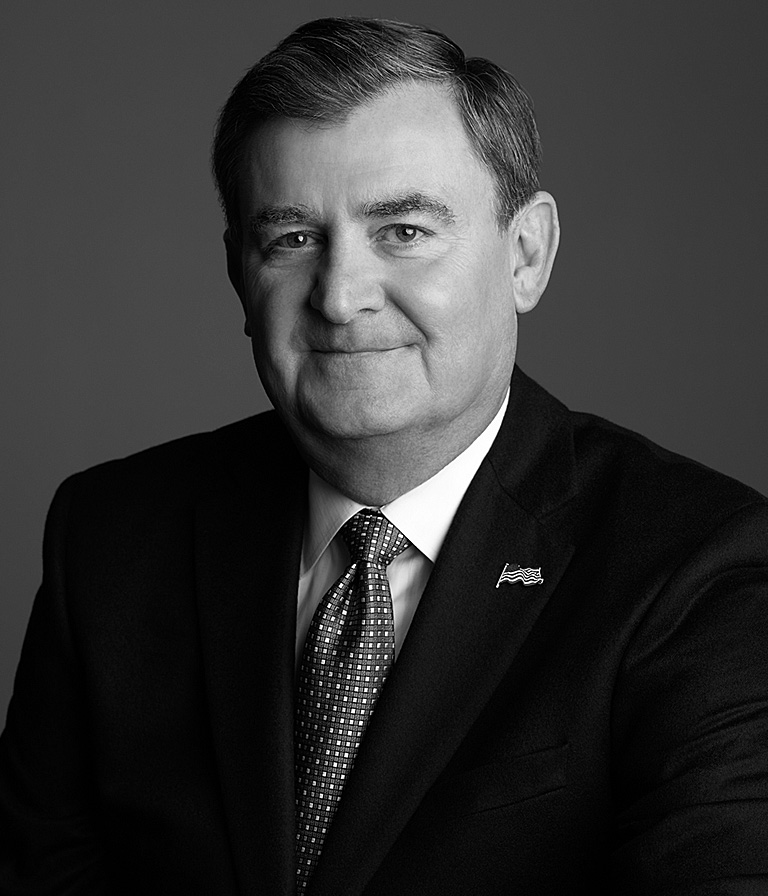 Randy Blackburn
Randy lives in Omaha, Nebraska and Bremen, Maine with his wife Sharon. He retired as Vice President Transportation at Union Pacific Railroad in 2015. Randy is a past President of Lauritzen Gardens, which is Omaha's botanical garden, and is currently Vice President elect on Millikin University (located in Decatur, Illinois) Board of Trustees. Since moving to Maine part time, they have been supporters of FOHI and Project Puffin for the past years.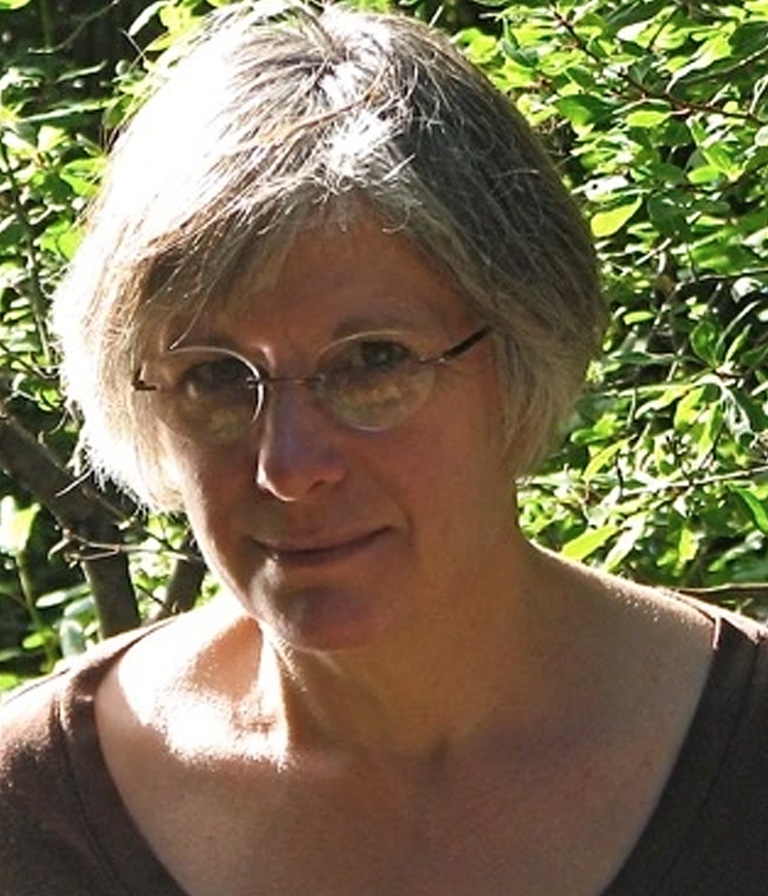 Nancy Dickinson
Nancy grew up in southern New Jersey, and got a BA in Fine Arts from Rutgers. Husband Mike's career took them to several homes, landing near Ithaca NY for 23 years, where they raised two children and restored an old farmhouse. Nancy volunteered and worked in fundraising at the Cornell Lab of Ornithology while becoming an avid birder. She spent 13 years as assistant to the director at Cornell's Johnson Museum of Art, from which she retired early to move to Maine and volunteer often on Hog Island.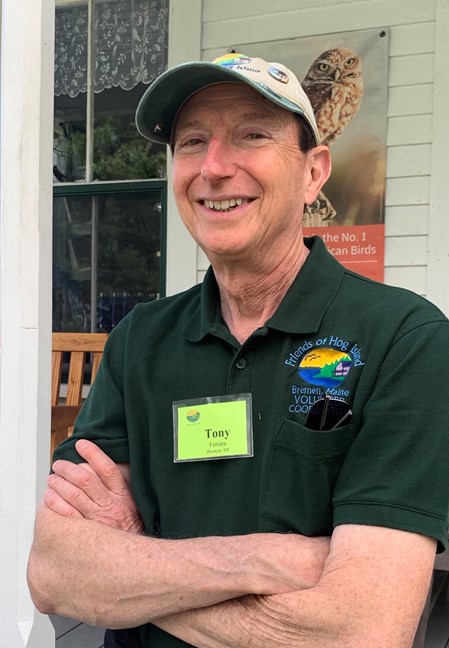 Tony Ferrara
Tony was first introduced to Hog Island via the Osprey cam operated by Explore.org. Intrigued by the prospect of a camp run by Audubon, he visited Hog Island as a camper in 2016 and again in 2017, attending Raptor Rapture and Field Ornithology sessions. He met Juanita Roushdy on Hog Island and became a supporter of Friends of Hog Island.
Tony was a volunteer beach steward on Marco Island, Florida, for many years, and served as the volunteer coordinator for that program. The beach stewards keep the beach clean, protect birds and other wildlife, and engage with tourists and residents to make the beach a safe and enjoyable place for everyone. Tony also served on the Beach Advisory Committee for the City of Marco Island.
At the end of 2017, Tony was preparing to retire from his career as a web and database professional, when he found out that FOHI would be hiring a volunteer coordinator for the following season. He applied immediately and served in the Volunteer Coordinator position from 2018 until 2021. He and his wife Cheryl now live in Bremen.
Tony is an avid birder and also enjoys photography, making music, hiking, cycling and skiing. He serves as a "Desperado," when FOHI needs extra help or someone to staff a special event on the island.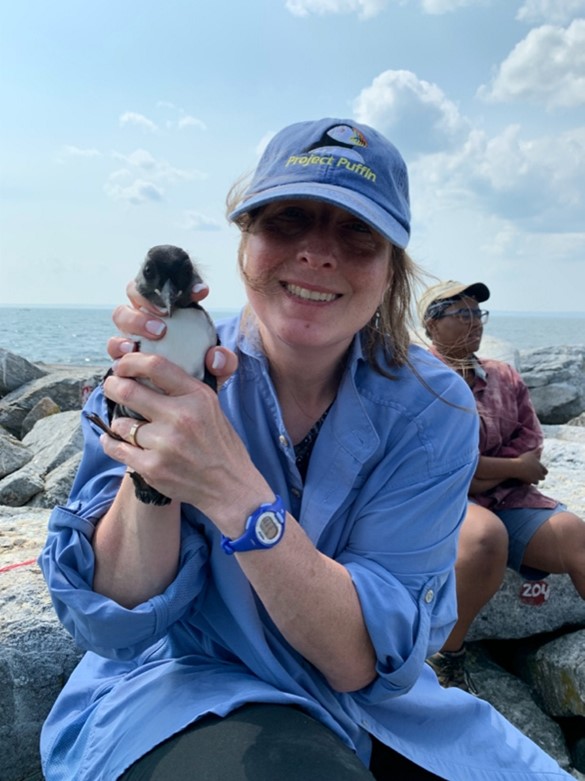 Jess Golumbeski

A retired emergency, and critical care veterinarian, Jess has become an advocate of Puffin conservation.  George Golumbeski (BFF and spouse) took her to Hog Island in August 2019.  There she met Juanita Roushdy, who inspired her with the history of Hog Island, and Steve Kress. Steve mesmerized her with his odyssey of Puffin restoration on Eastern Egg Rock.  He gifted her a signed copy of Project Puffin. An avid reader, Jess consumed it, fell in love with the science and story behind Project Puffin, and the book immediately became her favorite to share with as many people as possible.  With gratitude to Don Lyons and Tiffany Huenefeldt, in July 2021, Jess spent a treasured week on Eastern Egg Rock with her eldest son, Andre. Awed by the dedication, perseverance, and passion of the hosting and next generation of researchers, Kay Garlick-Ott, Emily Sandly, and Jasmine Eason inspire Jess. They represent hope for the future of Puffin preservation. Jess is honored to serve with FOHI, as a cog in the wheel of Puffin conservation and to see the science and the story continue.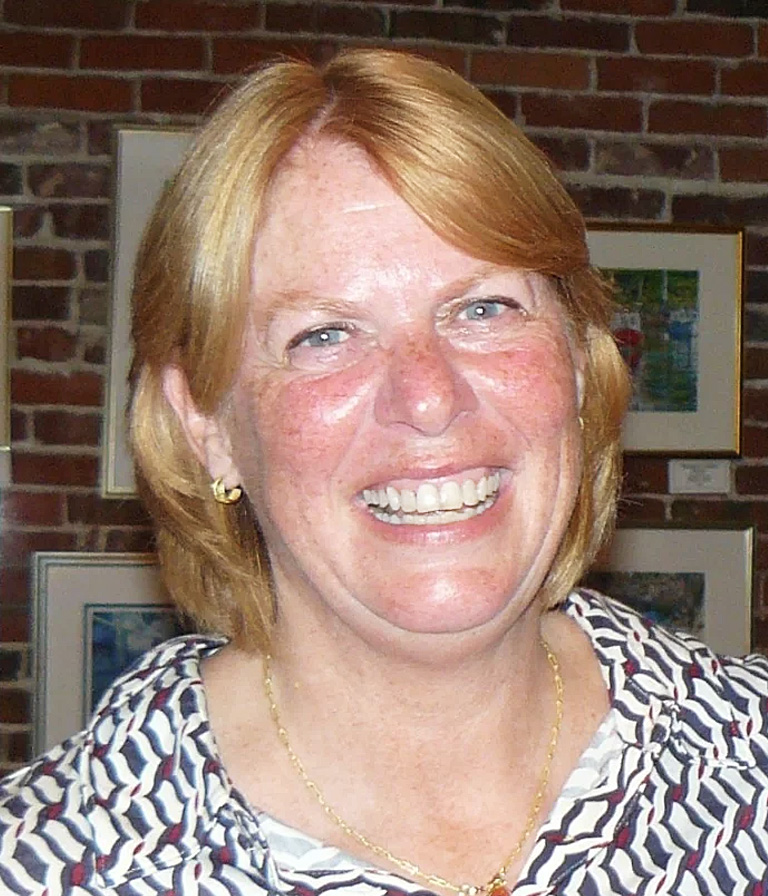 Sally Jeffords
Sally lives in Pennsylvania and Maine. She's on the board of Audubon New York and on the boards of a number of nonprofits. She has a special place in her heart for Hog Island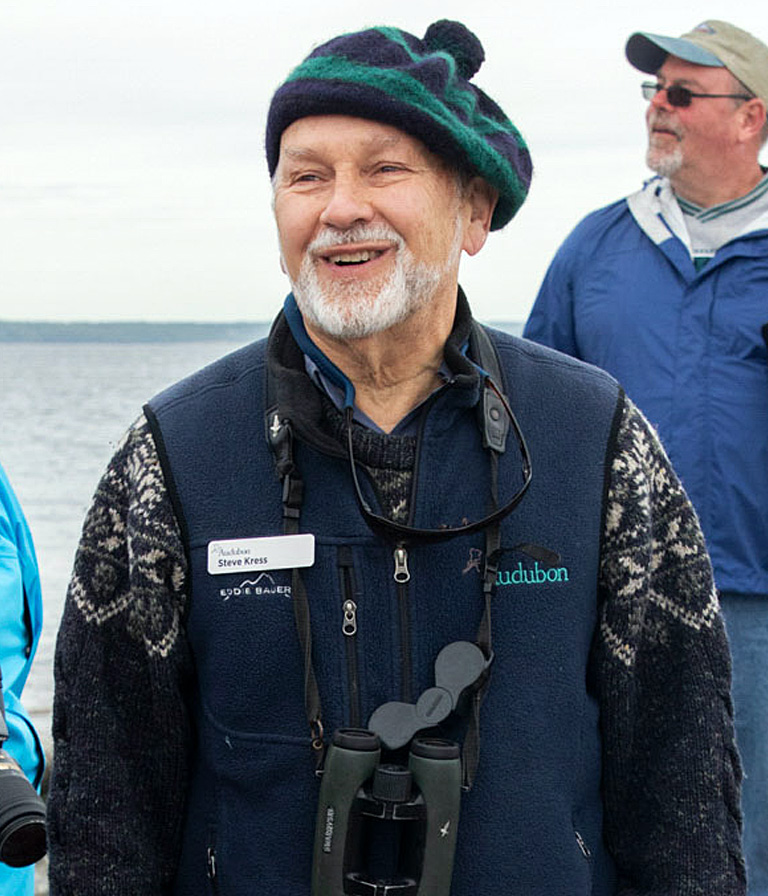 Steve Kress
Steve is the founder of National Audubon Society's Project Puffin and a Visiting Fellow of the Cornell Laboratory of Ornithology. He previously served as Vice-President for Bird Conservation for the National Audubon Society and Director of the Hog Island Audubon Camp. His career focus is development of techniques for managing colonial nesting seabirds. Hundreds of professional seabird biologists can trace their first interest in seabirds to internships with Project Puffin and many innovative seabird conservation methods that he developed in Maine are now standard practice worldwide. Dr. Kress received his Ph.D. from Cornell University and his Master's and undergraduate degrees from Ohio State University. He is co-author with Derrick Z. Jackson of Project Puffin: The Improbable Quest to Bring a Beloved Seabird back to Egg Rock and The Puffin Plan. He is also author of many books on bird watching, gardening for birds and online courses about birds as well as science papers about seabirds and conservation.
James Li, M.D.
James, his wife Kim, and their flock of ducks live off the grid on one of the handful of Maine island sites that are protected by Audubon conservation easements. Both are amateur yet avid birders and frequent Hog Island by kayak and lobster boat. James first became aware of environmentalism when he started first grade at the John James Audubon public school in Washington. As he grew older, he spent his free time hiking and guiding in wilderness areas throughout the Pacific Northwest. Before realizing that college might prove a useful endeavor, he spent a year bicycling around the US, an experience that made him an optimist. He brings experience as a long-term board member and officer for other non-profit organizations. Formerly an assistant professor of medicine at Harvard Medical School, he now practices emergency medicine in the MaineHealth system and serves as the health officer for the town of Friendship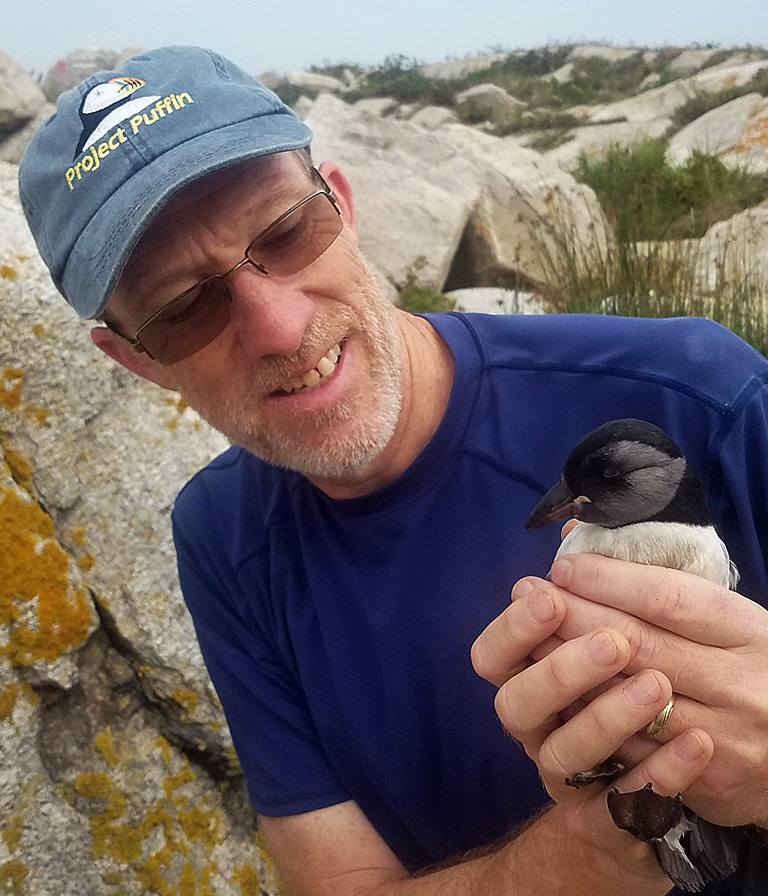 Don Lyons, ex officio
Don Lyons joined Audubon in 2018 and  is now Director of Conservation Science. He leads seabird research and stewardship efforts at Audubon's seven seabird nesting islands in Maine as well as contributing to conservation and research projects elsewhere. He has worked on seabird ecology and conservation for over 20 years from the North Atlantic in Maine to the South Pacific in Indonesia. His current efforts include expanding the use of seabird diet and reproductive performance to inform fisheries management, assessing the impacts of our warming climate on marine ecosystems, and the restoration of vulnerable tern and alcid populations.
Don also serves as an instructor at the Hog Island Audubon Camp and Oregon State University where he holds an Assistant Professor (Research) appointment in the Department of Fisheries and Wildlife. He has taught courses on seabird ecology and conservation, physiology of marine megaphauna, and natural resource management, and regularly advises graduate students. He spends summers in Maine working with the seabird island sanctuaries.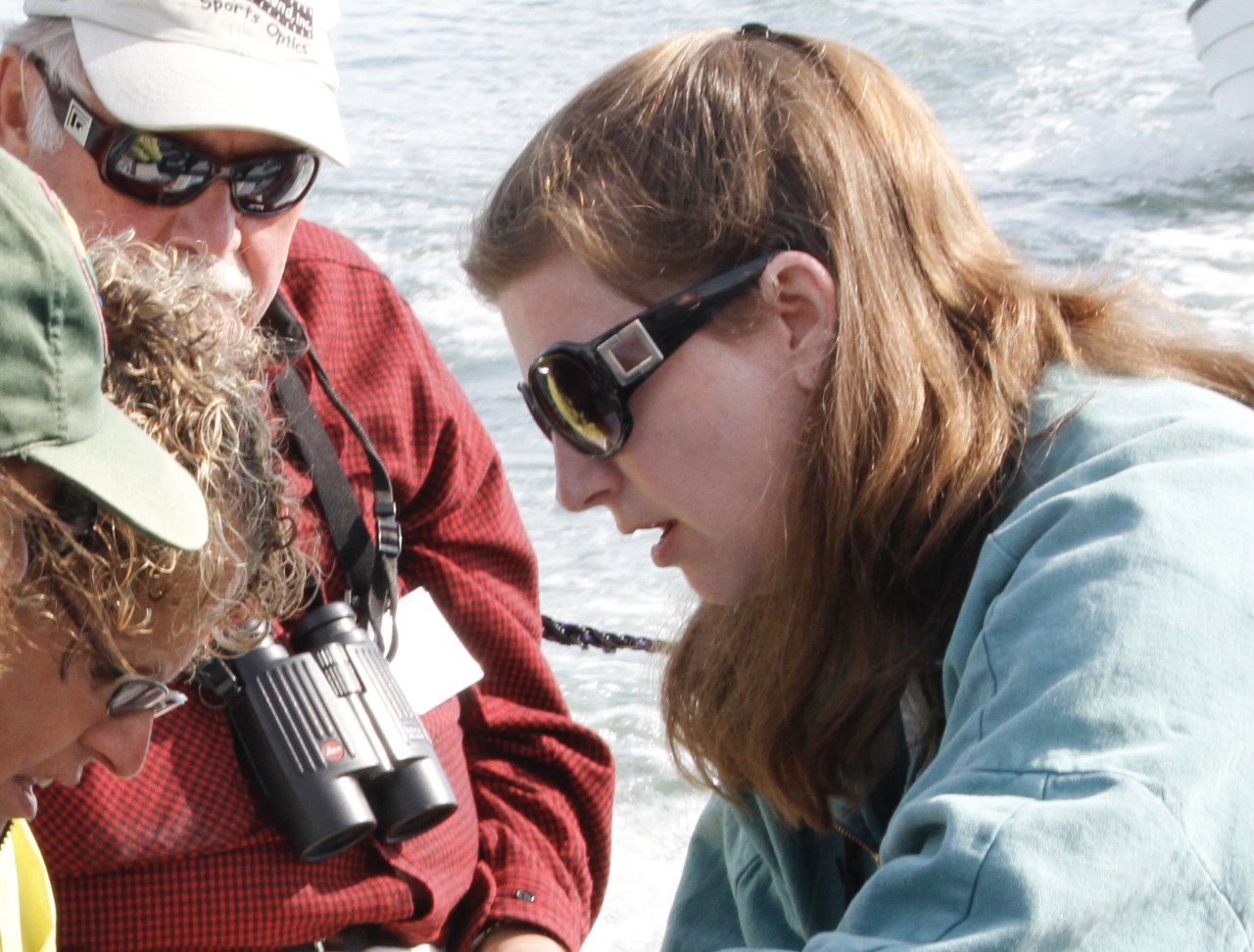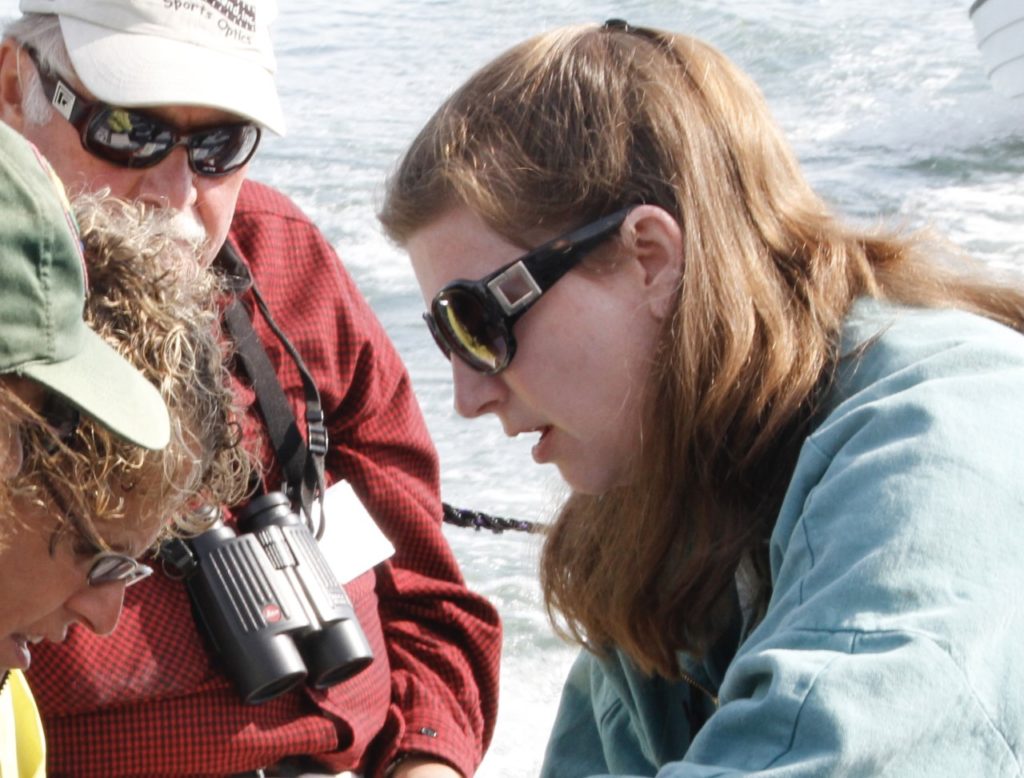 Sara Morris
Sara Morris began teaching ornithology at the Audubon Camp in Maine in 1990 when she was a graduate student at Cornell University. That summer she fell in love with the island and Muscongus Bay, and she continues to arrange her schedule around teaching ornithology on Hog Island each summer. Some of her fondest memories are sharing the island and the camp with her daughter each summer during her childhood.
Sara is currently the Vice President for Academic Affairs and a Professor of Biology at Canisius College in Buffalo, NY. As an ornithologist, she has spent decades studying bird migration, running the Appledore Island Migration Station, and mentoring undergraduate students in research. Her research projects include stopover ecology, changes in migration timing, flight calling behavior, connections between bird migration and zoonotic diseases, and impacts of man-made structures on birds. She is a past president of the Wilson Ornithological Society, a Fellow of the American Ornithological Society, and the President-Elect of the American Ornithological Society. She is pleased to be part of FOHI to ensure that the Hog Island magic continues to be available to encourage a love of birds and a conservation ethos.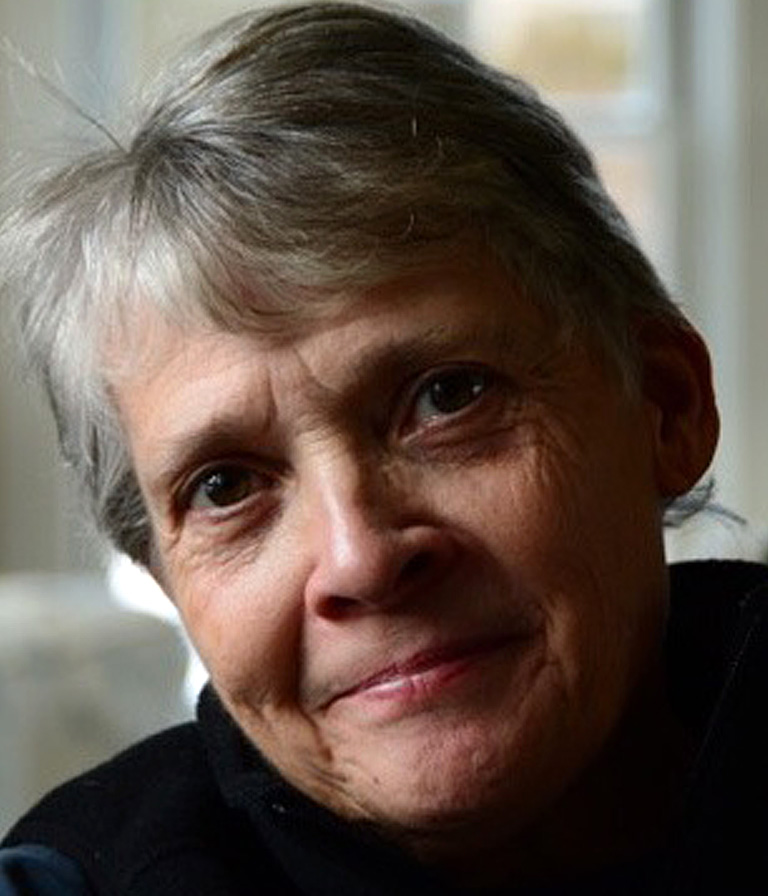 Loree Niola
Most of my adult life I have worked in healthcare, finding it a good way to support myself and two children, with opportunities for growth. Working in healthcare you come across many volunteer opportunities, as "giving back to the community" is strongly supported. However, my history of volunteering began long before that, probably with being a member of the Red Cross Club in high school. Over the years it has included EMT, firefighter, hospice volunteer, Emergency Management Coordinator, not to mention the "Days of Caring" for the United Way, neighborhood clean up days, etc.
Being a volunteer has become more important since my retirement. It has been a broken course of events with interruptions for knee replacements and other various things, but happily I am on a steady course now. Aside from my volunteer efforts on Hog Island for FOHI, I also volunteer for Lincoln Health, Miles Campus, in the Wellness department. Recently I became a member of the Coast Guard Auxiliary. My weeks are scheduled very carefully so I can fulfill my responsibilities. I truly enjoy the variety of different duties, all very different.
I will always be appreciative of Nancy Dickinson for introducing me to Juanita Roushdy and Hog Island.
Though what I do has changed I still get a great deal of pleasure in providing my time to HI. When you have the opportunity to be on the island when campers arrive, it is very exciting. Everyone is so looking forward to their time on the island and the great learning opportunities that they will have, as well as seeing campers excitement over the puffin cream puffs, sharing stories, and creating some lasting friendships. It is also exciting to be there when they leave, tired, but still with the level of excitement they arrived with, their minds spinning with all they have learned.
To spend time on the island when you feel you are alone, surrounded by nature and all that have come to call home, is a soul-renewing time. Sitting by the water, watching the sunrise, or set, and the activity of the birds that are getting their first or last meals of the day a seal playing just off the coast, the osprey pair, Rachel and Steve, flying about. These are the times you are at peace. This is when you wish everyone could experience this, it would be a much less anxious, tense or stressful world, if people could just get close to nature.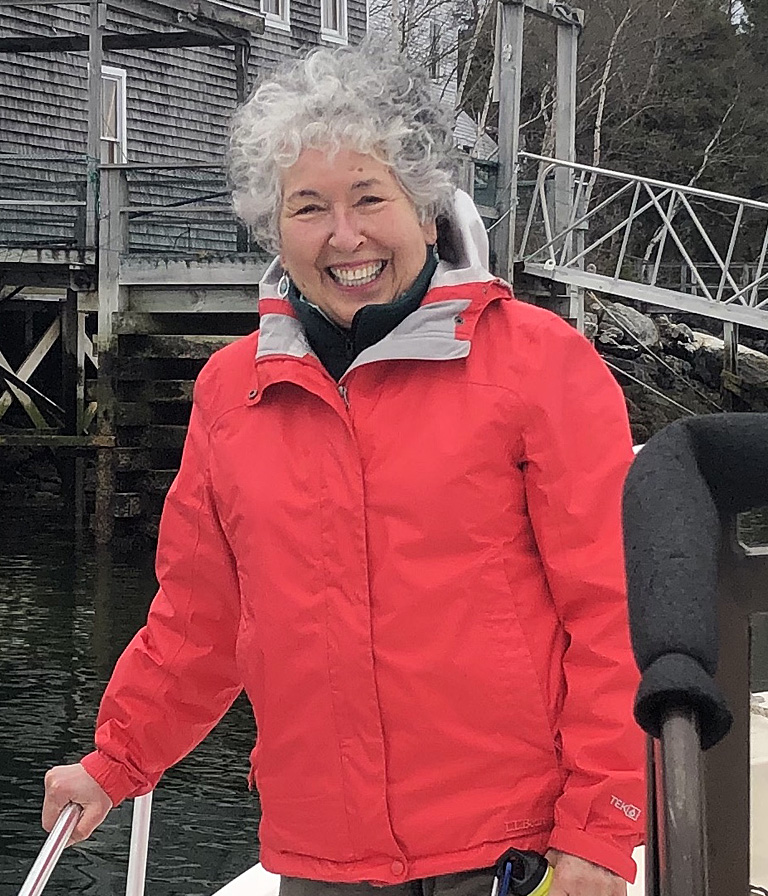 Juanita Roushdy, Founding President and Executive Director
Juanita is a full-time resident of Bremen, Maine, and lives just up the road from Hog Island. She was on the board of Audubon North Carolina and founded and was president of the Cape Fear Audubon Society in Wilmington, NC. During her professional career she was Senior Editor and later Director of Community Relations at the International Monetary Fund in Washington, D.C. She's an active volunteer in the community and on a number of boards, avid birder, and conservationist, and a former Hog Island camper, now a full-time volunteer.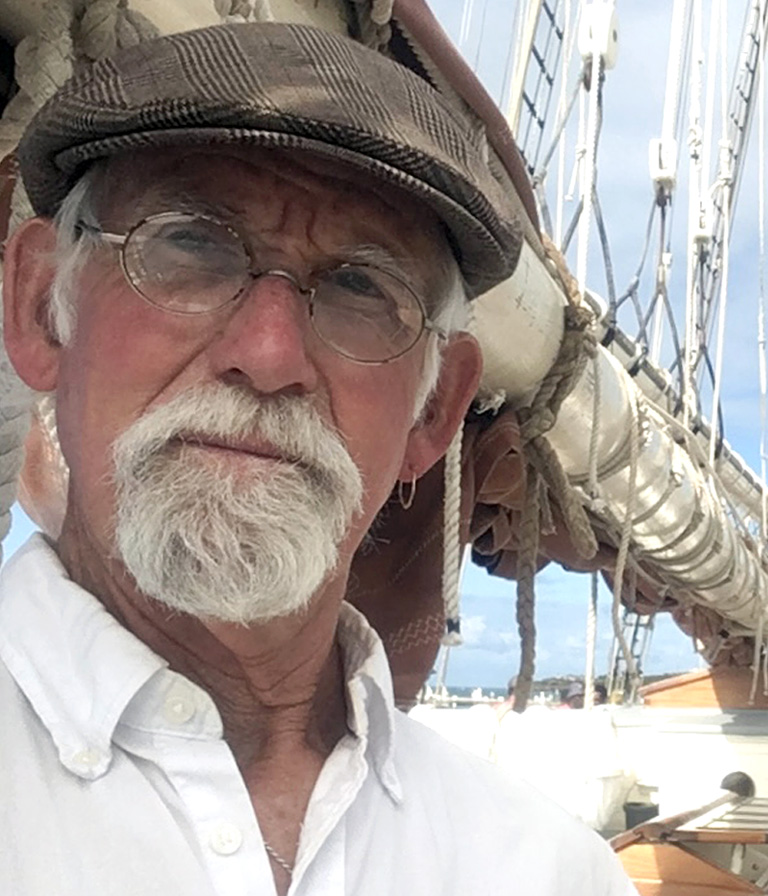 Jonathan Bacon (JB) Smith
JB began grew up in Tallahassee, Florida, sailing along Florida's Gulf coast. In time, his sea-going career grew to include naval destroyers, a Spanish squid trawler, a Swedish cruise ship, research vessels, several sail and motor yachts, and then traditionally rigged sail training vessels.
In the late 1970s, he helped design and implement a program of education at sea which evolved over the years to become the core mission of the Ocean Classroom Foundation where he was employed for its duration as Captain and Maine Superintendent. OCF, based in Mid-Coast Maine, was successful in running sea education programs sailing the US East Coast and the Caribbean for over 20 years.
These days, JB occasionally puts to sea, but spends much of his time with a variety of not-for-profit organizations including the WW&F Railway Museum, Friends of Hog Island, Damariscotta River Association, Maine Maritime Museum, Coastal Maine Botanical Garden, etc.
He holds a BS in Biology and a 1600 ton Ocean Master's license. He lives in Nobleboro, Maine, and has a son and a daughter, both of whom work as field ornithologists.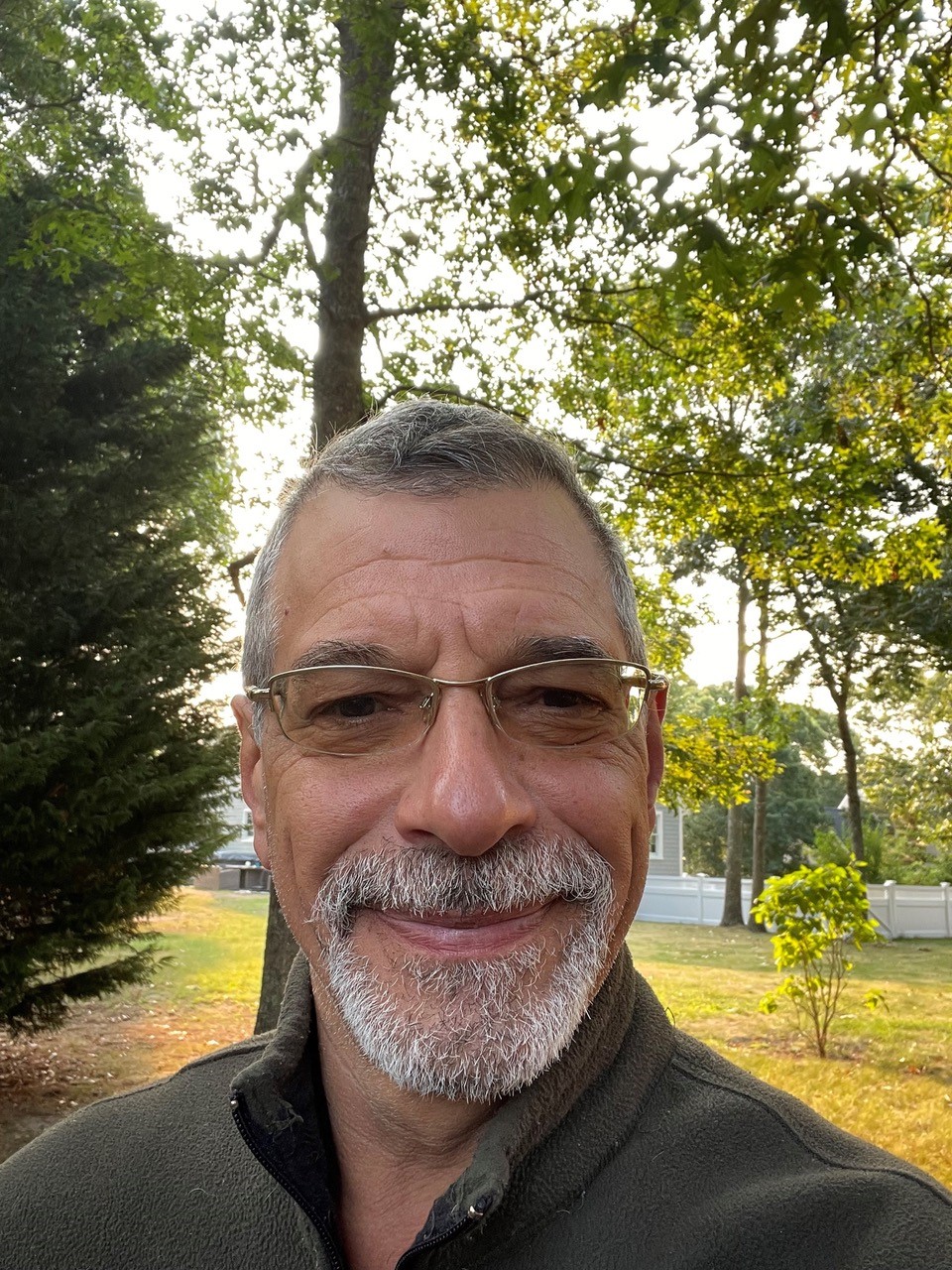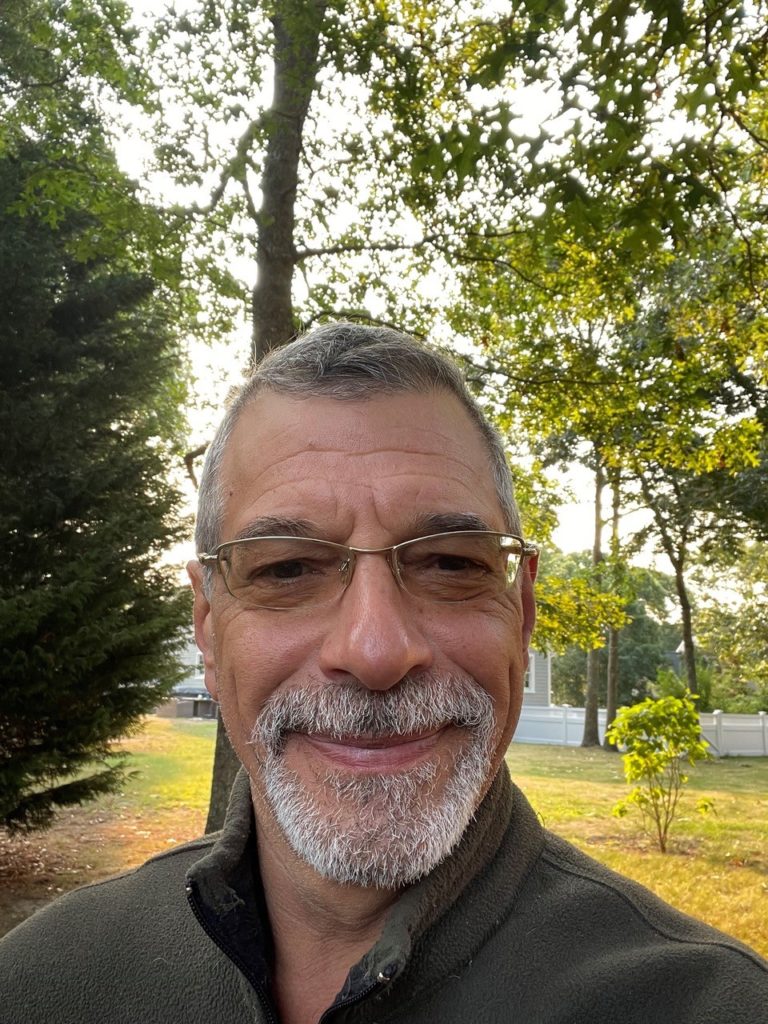 Kenny Totilo
Kenny grew up in Connecticut, migrated to New York City for his professional career as a CPA and then, after raising two sons there, empty nested to Cape Cod where he and his wife enjoy nature and particularly birdwatching. He was a volunteer fireman as part of his youthful spare time and moves towards volunteerism again on the forefront of the twilight of his career.  He has roles as both an officer and board member for other private and public non-profit charities whose principal goals include nature conservatism and support for inner city homelessness.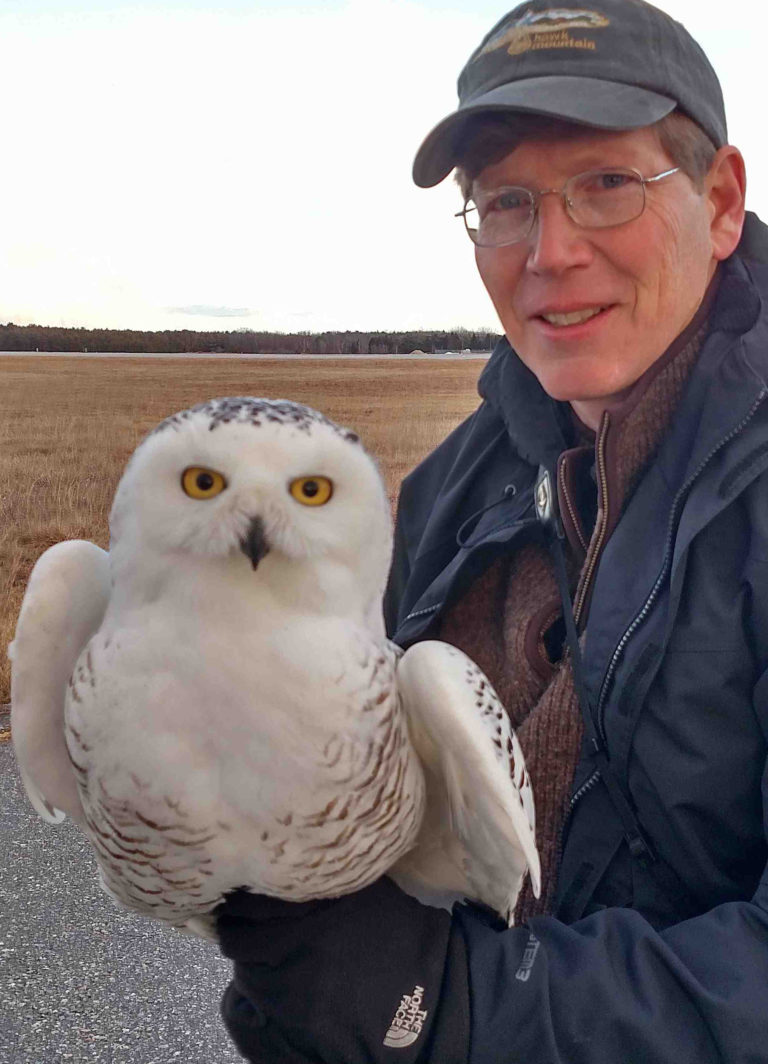 Scott Weidensaul
Scott Weidensaul is the author of more than two dozen books on natural history, including the Pulitzer Prize finalist Living on the Wind and the New York Times bestseller A World on the Wing: The Global Odyssey of Migratory Birds. Scott is a contributing editor for Audubon magazine and writes for a variety of other publications, including Living Bird. He is a Fellow of the American Ornithological Society and an active field researcher, studying saw-whet owl migration for more than two decades, as well as winter hummingbirds, bird migration in Alaska, and the winter movements of snowy owls through Project SNOWstorm, which he co-founded. He has been an instructor and camp director at Hog Island for more than 20 years. A native of Pennsylvania, he and his wife Amy now live in New Hampshire.